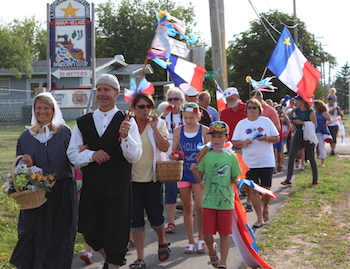 ABRAM-VILLAGE – Aug. 16, 2017 – About 350 people came to Abram-Village on the evening of Aug. 15th to celebrate National Acadian Day and the 150th anniversary of Canada with a "tintamarre" or noise parade, lots of Acadian food and, of course, lots of lively music.
The traditional characters of Evangeline and Gabriel, played by Odette and Dennis Gallant of Mont-Carmel, kicked things off by leading the noise parade over a half-kilometer distance – around the village's exhibition grounds and rink. Participants then watched the raising of the flag by dignitaries and organizers and then sang the national Acadian hymn, Avé Maris Stella.
Following a few brief messages of welcome, visitors got to watch and hear three groups perform: the folk trio É-T-É from Quebec, the local youth band Les Palou'des and finally brothers Peter and Albert Arsenault, their sister Helen Bergeron and their friend Gary Gallant.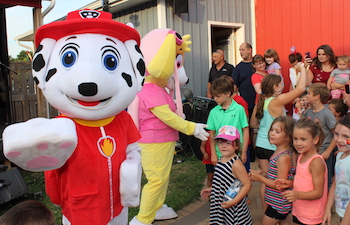 The children, mostly with painted faces, especially appreciated being able to dance and get their pictures taken with two "animals" from the TV show, Paw Patrol. Visitors enjoyed a barbecue or traditional Acadian dishes. A number of door prizes were also handed out.
This colorful and energetic event was organized jointly by the Evangeline School-Community Council, the Acadian Musical Village, the Acadian and Francophone Chamber of Commerce and the Wellington Rural Action Centre.