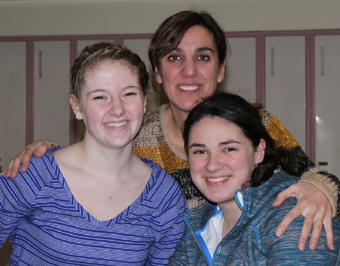 SUMMERSIDE, PEI – Feb. 8, 2012 – On Feb. 20 and 21, more than 400 PEI students enrolled in Grade 9 French first-language and French immersion programs will have an opportunity to learn that French is much more than simply a school subject.
Thanks to personal testimonials from their peers and by special guests, coupled with presentations on a wide variety of bilingual careers on PEI, the students will see that French is a living and current language that can open all kinds of doors for them, both from a professional and personal perspective.
This active promotion of the numerous advantages of bilingualism will take place during two French for the Future Local Forums, called "My French, My Future: Career Exploration Fairs", being held at Empire 5 Theatres in Summerside Feb. 20 for youth from the Western half of the province and at the Confederation Centre of the Arts in Charlottetown Feb. 21 for youth from the Eastern half.
The highlight of both days will certainly be the powerful testimonial that will be delivered by special guest speaker Kara Grant, a modern pentathlon Olympian and bronze medal winner from the 2008 World Cup. This Island athlete will talk to the youth about the numerous and marvelous adventures that her second language has provided her. Her talk proved to be a highlight of last year's fair.
In addition, the hosts of this year's fairs will be two young PEI ambassadors from French for the Future's National Ambassador Youth Forum (NAYF), Emmaleigh Munro and Kelly McGrath. Emmaleigh and Kelly learned French in school and are currently completing their high school studies at Colonel Gray in Charlottetown. They are quite eager to share with the youth everything they've experienced at the NAYF, which took place in Edmonton, Alta., last August.
CAREERS
Throughout the day, the youth will have a choice of attending four of the nine different career sessions being offered, in addition to the opening and closing ceremonies.
The career sectors featured this year are health, education, tourism, the co-op movement, justice, public services, information technology, aerospace and biosciences.
In addition, information booths will provide the students with details about postsecondary education options in French.
"One of the primary objectives of our fairs is to encourage our youth to continue their high school and postsecondary education in French so that they can eventually get hired in a bilingual position on PEI," says fair coordinator Sylvie De Sousa. "We therefore give them an opportunity to spend a full day completely immersed in French out in the community, outside of a school context, so that they can realize that this contemporary language is used in work as well as in social everyday settings."
These Local Forums or "fairs" are organized jointly by French for the Future (a national organization promoting official bilingualism), Canadian Parents for French PEI, the two provincial school boards, the Department of Education and Early Childhood Development, the University of Prince Edward Island and RDÉE Prince Edward Island.
-30-
CUTLINE 1: Sylvie De Sousa, centre, PEI coordinator for French for the Future's Career Exploration Fairs, briefs the fairs' student hosts Kelly McGrath, left, and Emmaleigh Munro about their duties. The two young ladies, both high school students at Colonel Gray, were PEI's "ambassadors" at National Ambassador Youth Forum last summer.
CUTLINE 2: Island Olympian Kara Grant will give a motivational talk to the fair participants, focusing on the many doors that her bilingualism has opened for her.
For more information:
Sylvie De Sousa
Coordinator, Prince Edward Island
"My French, My Future: Career Exploration Fairs"
(902) 659 2783
sdesousa@french-future.org
www.francais-avenir.org