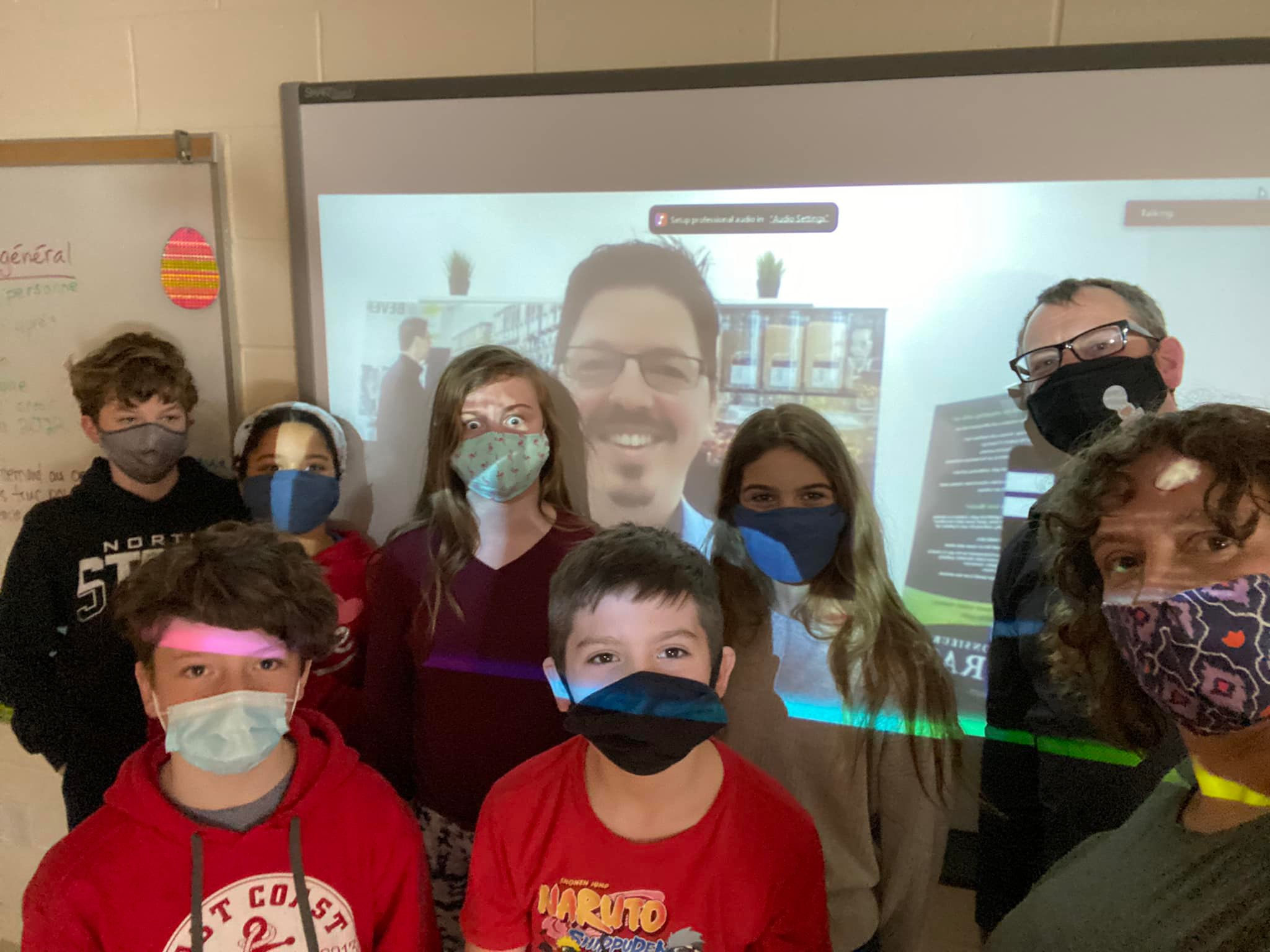 RUSTICO – March 25, 2022 – A new initiative by RDÉE Prince Edward Island, the provincial francophone economic development council, is trying to teach young people that they have an important role to play in conserving the planet's limited natural resources. More importantly, the project wants them to determine for themselves what they can do to contribute to the survival of the Earth.
RDÉE PEI's new sustainable development officer, Stéphane Blanchard (former youth development officer), explains that the initiative was developed in partnership with RDÉE Canada's Sustainable Development Working Group. Each member province and territory was invited to develop an awareness-raising project of some kind.
Thinking about what he could do on the Island, Blanchard went to meet with Israël Poulin, the owner of the Charlottetown zero waste store, Monsieur Vrac, to discuss the possibilities as he knew that this entrepreneur is very knowledgeable and passionate about the theme of sustainable development. Together they conceived the project in question: Notre vaisseau spatial "Terre" (Our Spaceship « Earth »).
It would offer hour-long information and reflection sessions exploring two major themes: reducing our ecological footprint (via greenhouse gases, among other things) and reducing plastics. The session would be delivered to French-language schools across the Island in a hybrid format: Blanchard would attend in person while Poulin would participate virtually from his store via Zoom. A first round of visits to the six schools would target Grade 6 students while a second, more advanced round would target Grade 10 students.
INTERACTIVE PRESENTATION
Each session would include an interactive presentation by Poulin showing inspiring images and facts, discussions led by Blanchard and demonstrations of green products. It was felt that the most attention-grabbing part of the session would be an interactive game that would allow youth to answer a series of questions electronically (via phone, computer or tablet) and have their compiled answers appear instantly on the big screen.
During the session, Poulin would take them on a virtual tour of his store. And the students who would be first to see the store's mascot would win a prize – a $5 gift card made of paper and containing seeds. And of course, the youth would be invited to express their ideas about what they could do personally to protect the planet.
The very first session was held Monday, March 21, with the Grade 5 and 6 class at École St-Augustin in Rustico. The reaction of the students was very positive. As expected, it was the electronic response game that captured their attention the most. They also suggested some good ways to protect the environment.
The two facilitators will continue to refine the session after each presentation to ensure that it is more relevant to the youth and better delivers its message.
« Right now, we're talking about visiting each school twice for a total of 12 sessions, » says Blanchard. « But it's a concept that would be easily exportable to other parts of the country. »
Poulin had produced a French promotional video for the session, which can be seen at https://youtu.be/XXw8eeqTpX4; it is with this one-minute clip that the French schools are being invited to sign up for these sessions.
-30-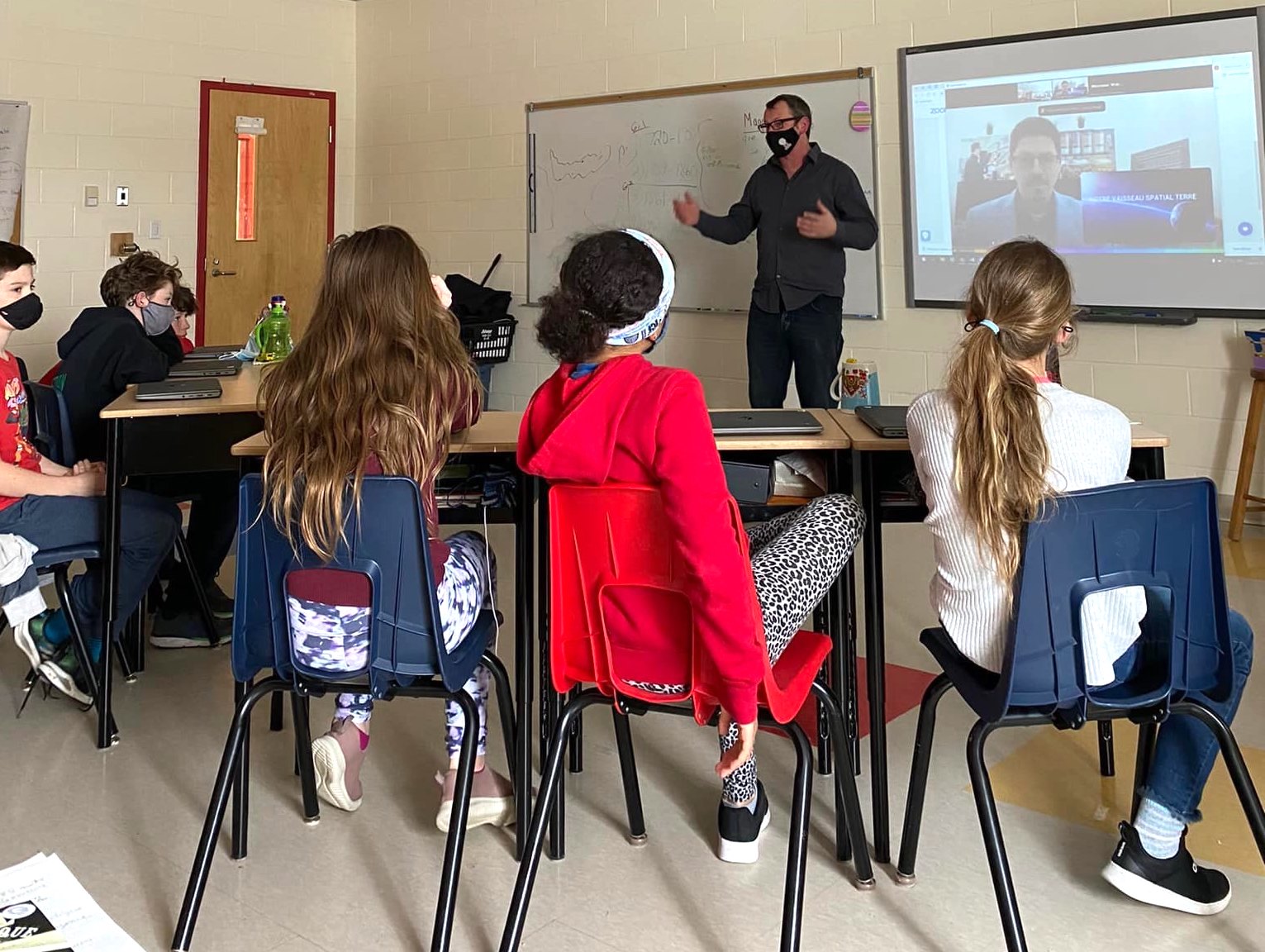 PHOTOS: Julie Gagnon's Grade 5 and 6 class from École St-Augustin in Rustico enjoyed a great interactive session on protecting the planet called Notre vaisseau spatial "Terre"/Our Spaceship "Earth" on March 21. Stéphane Blanchard from RDÉE Prince Edward Island participated in person while Israël Poulin from Monsieur Vrac store participated virtually via Zoom.
For more information, please contact
Stéphane Blanchard
Sustainable Development Officer
RDÉE Prince Edward Island
902-388-8460
stephane@rdeeipe.org