Registration deadline: Feb. 3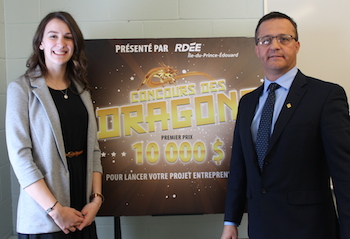 SUMMERSIDE – Jan. 20, 2017 – PEI Credit Unions have just announced that they will be a gold-level sponsor for RDÉE Prince Edward Island's 2017 Dragons' Contest, meaning they will contribute $2,500 towards the contest's $10,000 championship prize.
The great news was announced during the Members' Luncheons organized by the Acadian and Francophone Chamber of Commerce of PEI Jan. 19 in Charlottetown and Jan. 20 in Summerside.
« Credit Unions of PEI are pleased to sponsor Dragons' Contest," says a statement from the PEI Credit Unions. "Small and medium-sized businesses are the backbone of the Canadian economy. We know many successful entrepreneurs are contributing to the P.E.I. economy, and we wish all participants the best of luck with their business endeavors. »
Contest organizers were extremely pleased to accept the contribution. « We greatly appreciate this sponsorship; the Island's credit unions are always ready to support community causes that will help the PEI community grow and that will support economic and entrepreneurial development, » said contest coordinator Nicole Allain.
She explains the extremely popular Dragons' Contest will reward a Francophone or bilingual entrepreneur seeking to establish or expand a business or to launch a new product or service. All those who have such an idea are invited to submit their name and business idea at www.rdeeipe.net/dragons/ no later than Feb. 3.
« Several people have already expressed an interest in this year's contest, but we've still got room for several more contestants so don't hesitate to participate since you could very well be our next champion. »
TRAINING DAY
All contestants will have the opportunity to participate in an obligatory training day with business development experts Ron and Connie Robichaud of Nova Scotia on Feb. 18 to learn how to better develop their project proposal and how to present it during the contest. The Robichauds will be available the next day for supplementary individual consultations.
Then, the contestants will go through pre-selection interviews March 4, when they will get to present their project, in seven minutes, to a provincial three-person panel of judges that will have the difficult task of whittling down the list of contestants to three finalists.
These three will then head off to the finals, to be held at the Centre Belle-Alliance in Summerside, March 18, right before the Entrepreneurs' Gala. Here, they will again present their project, again in seven minutes, before a national panel of judges and an audience.
At the end of the evening, the winner will receive $10,000 to help kick-start his or her business project. In addition, the champion will receive free memberships to the Greater Charlottetown Chamber of Commerce and the Acadian Chamber, a personal consultation on how to improve or create his or her website (from PEI Agents Realty), plus a $200 gift certificate from the UPEI Bookstore.
The contest's main sponsor is the Atlantic Canada Opportunities Agency, which is funding the coordination and promotion of the contest. The sponsors that are contributing toward the $10,000 prize, so far, are Innovation PEI, PEI Credit Unions, The Co-operators (Mike Bradley Insurance Services), the Cassidy Group, LP Electronics and Les Francofolies de Charlottetown.
-30-
CUTLINE 1: Nicole Allain, coordinator of RDÉE PEI's Dragons' Contest, graciously accepts a $2,500 sponsorship towards the contest's $10,000 first prize from Alfred Arsenault, representing PEI Credit Unions.
CUTLINE 2: Mathieu Arsenault from Think Forward Solutions poses with coordinator Nicole Allain after her presentation on the Dragons' Contest in Charlottetown Jan. 19.
For more information:
Nicole Allain
Coordinator
2017 Dragons' Contest
(902) 370-7333, Ext. 401
dragons@rdeeipe.org