In students' field of study on PEI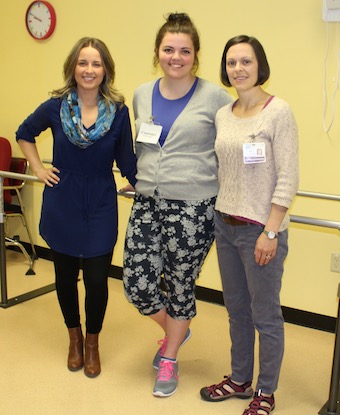 CHARLOTTETOWN – June 29, 2016 – Thanks to the PERCÉ program, about 30 PEI postsecondary students, mostly registered in out-of-province institutions, have returned to the Island for a summer internship in their field of study.
RDÉE Prince Edward Island Inc., which is coordinating the program, is specifically seeking to encourage these young adults to return to PEI, once their studies are complete, to live out their lives and careers here.
The program, which is remaining quite popular, is recognized nationally as an excellent way to repatriate young people; according to surveys, PERCÉ's success shows that 82 per cent of its participants return to the Island. In fact, the program was presented as a best practice during the Forum d'action économique in Montreal, QC, last May.
A total of 115 university and college students requested to participate in this 13th edition of the PERCÉ program. The 30 who were selected – from Alberton to Montague – are studying in a wide range of fields, from biology, health, engineering, education, administration and social sciences to acting and welding. The program helps these students find a place of employment in their field of study for 12 weeks; during this time, they'll get an opportunity to gain a better understanding of their industry and to establish contacts.
The program kicks off with a week of orientation and training for participants. They start off by completing the Insights personality test, then attend a motivational presentation, participate in a network training session from Career Development Services, visit work sites related to their field, receive first aid training and participate in an information session on resumés and job interviews.
PERCÉ offers a $5 an hour incentive to employers to help them pay the intern's salary. Employers must pay the students the normal starting rate for their industry.
Among this year's employers are non-profit organizations, private businesses, a hospital, a law firm, a tourism organization, a veterinary college, a laboratory, a summer camp for children, a book fair, a theatre production, and watershed management groups.
FUNDING
The program is being carried out again this year thanks to government funding totalling $122,000. The Atlantic Canada Opportunities Agency is contributing $75,000 while the Province of PEI, through the Department of Workforce and Advanced Learning is contributing $47,000.
"The Government of Canada is committed to supporting opportunities for young Canadians," said the Honourable Navdeep Bains, Minister of Innovation, Science and Economic Development and Minister responsible for the Atlantic Canada Opportunities Agency. "I am pleased to announce ACOA's support for PERCÉ, this program is well-positioned to ensure that participants gain the skills and experience they need to succeed and create a bright future in Atlantic Canada."
"Our Government is proud to support internship programs that provide our youth with meaningful work experiences in their chosen field," said Minister Richard Brown, Workforce and Advanced Learning. "The hands-on experience and networking opportunities are endless, and hopefully by coming back to PEI to work, they will see that there are career opportunities for them, right here at home."
RDÉE Prince Edward Island is extremely proud to continue coordinating this successful program. "It is clear that the PERCÉ program has a real impact on our province. It succeeds in bringing back our brightest brains as well as all the knowledge and experience they've gained through their studies and out in the work world," says RDÉE president Jeannette Arsenault. "Over the course of their career, these individuals will generate huge economic spinoffs for our province through the salaries they'll earn and spend."
-30-
CUTLINE: Rachel Chappell, left, PERCÉ program coordinator, makes a first round of visits to the workplaces of the program's interns. Here, she is seen with intern Constance Gillman, centre, a kinesiology student at the University of Moncton, and Rose Delaney, the physiotherapist who will be supervising the intern's work at Beach Grove Home in Charlottetown.
For more information:
Rachel Chappell
Coordinator
PERCÉ Program
RDÉE Prince Edward Island Inc.
(902) 370-7333, Ext 401