WELLINGTON – Aug. 23, 2022 – The Wellington Royal Canadian Legion, Branch 17, has graciously accepted a beautiful large-scale photograph entitled « Neuville St. Vaast », commemorating both World Wars. Taken and donated by professional photographer Rémi Thériault of Ottawa and formerly of the Evangeline area, this photo now occupies a place of honour in the building – a large wall in the Veterans' Lounge, just to the right of the stage where all visitors will be able to see it.
This photo of a B&B in France simply named « Le Canadien » was part of a series of photographs taken between 2009 and 2011. Thériault had presented this series, entitled « FRONT », in solo shows at the Ottawa Art Gallery in 2014 and the Bytown Museum in 2015, and then as part of group shows at Flash Forward – Magenta Foundation in 2015, Studio 66 in 2019 and Investigations in Infrastructure – Subjectively Objective in 2022.
In presenting this gift to the Legion, Thériault explained that in 2005, when he was working with Veterans Affairs Canada in Charlottetown, he had the opportunity to interview over 100 veterans from across Canada who had had a wide variety of war-time experiences. These stories had a profound effect on him.
« I often did my interviews in Canadian Legions. I was able to appreciate what these Legions brought to small Canadian communities. I thought the Wellington Legion would be the perfect place in the Evangeline area to drop by and make my first photo donation, » he said. « The Neuville St. Vaast image shares a memory of the Canadian Forces' recognition during the two world wars. I also wanted to show my appreciation of the service given by military people and of the area where I grew up. »
As for the series of photographs, its main objective was to illustrate the passage of war over landscapes rich in World War history. To better reflect the historical value of his subjects, Thériault used an old 4×5 camera from the 1960s.
His inspiration: During several trips to France, Rémi saw the mark that Canadians left on that country after the wars. In the small seaside villages in northern France, one notices signs with maple leaves, Canadian names or welcome signs. And, in Neuville Saint-Vaast, Rémi obviously noticed the B&B bearing the name of his nationality. Obviously, the landscape shares the many scars left during the two great wars. The people are also marked by the aftermath, but they are also warm towards the allied forces that contributed to their liberation. In particular, the arrival of the French-Canadian armies still brings a welcoming memory to the people of Normandy.
To view the entire « FRONT » exhibition online, visit the artist's website at www.remitheriault.com/front.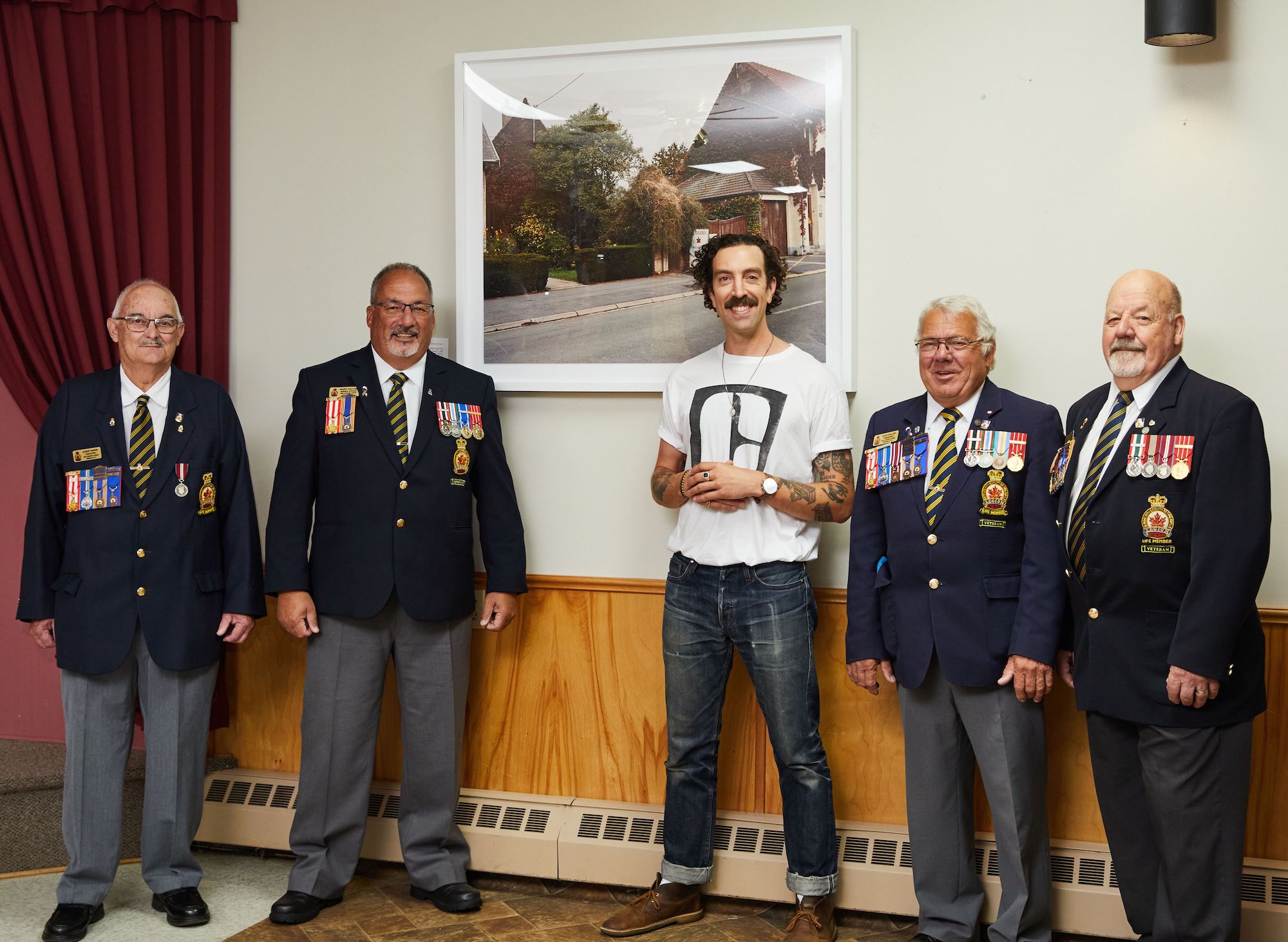 -30-
PHOTOS: Professional photographer Rémi Thériault was pleased to explain the intent of his photo « Neuville St-Vaast » as he presented it as a gift to the executive of the Wellington Royal Canadian Legion: (from left) executive member Albert Hashie, service officer and executive member Mario Couture, president David Gallant and past president Gilles Painchaud. (Photos by Arthur Duperré.)
For more information, please contact
Rémi Thériault
Photographer
House of Common Studio
613-290-2426
remi@houseofcommon.studio