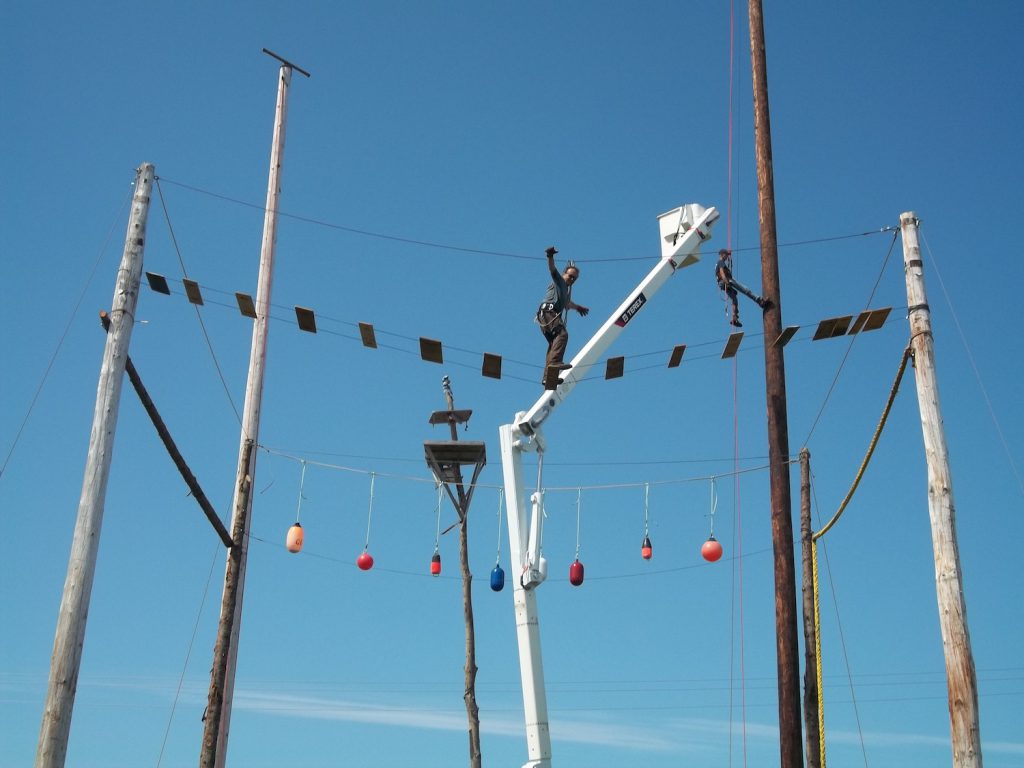 ABRAM-VILLAGE – Aug. 24, 2015 – The ever-popular pole climber Gerard (Gerry) Arsenault will once again return to the Evangeline Area Agricultural Exhibition and Acadian Festival in Abram-Village with his mid-air comedy and acrobatics show Saturday, Sept. 5, at 1:30 p.m. and Sunday, Sept. 6, at 2 p.m.
However, this year, he'll be inviting seven or either other brave lads to climb up a series of 50-foot poles to compete in a brand new aerial obstacle course.
This year, he had four new 50-foot poles installed near his regular and taller poles. Each of the new poles is linked to the next one, either with a rope, a rope ladder, a series of small ropes with buoys dangling off them or a log. Arsenault explains the objective will be for the participants to go around the course as quickly as possible.
The organizer refuses to disclose any more details about this year's show and competition but he does hint that there will be several surprises and that audiences might again get to see him dance atop the 100-foot pole.
« This show is always extremely interesting and captivating, » says Exhibition and Festival president Alcide Bernard. « In fact, it's one of the most popular events of our weekend. We are extremely pleased that Gerry and his brother Marcel have once again accepted to prepare such an entertaining show for our thousands of visitors. »
This show is included in the general admission price of the day both Saturday and Sunday.
-30-
CUTLINE 1: Marcel Arsenault, left, and his brother Gerard (Gerry) Arsenault check out the new aerial obstacle course they've set up for their Sept. 5-6 pole-climbing shows at the Evangeline Area Agricultural Exhibition and Acadian Festival.
CUTLINE 2: Pole climber Gerard (Gerry) Arsenault examines his new obstacle course to ensure it's safe and sound for his assistant climbers. Even the buoys that are part of the obstacle course are Acadian if one judges by their colors.
For more information:
Alcide Bernard, président
Evangeline Area Agricultural Exhibition and Acadian Festival
expositionfestival@gmail.com
902-432-2425