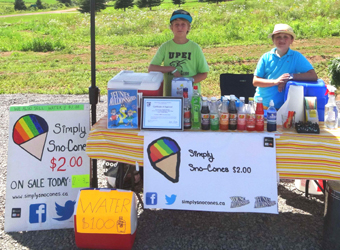 CHARLOTTETOWN – Oct. 3, 2013 – Stéphane Blanchard is extremely impressed by the 16 young Francophones from PEI, aged 9-12 years, who established a total of 12 small businesses, individually or in duos, last summer through Jeunes millionnaires, the francophone edition of the Young Millionaires Program.
"When you think of young entrepreneurs of this age, it would be easy to think that they'd only earn a couple of bucks. But make no mistake about it! This year's Young Millionaires generated more than $5,000 in revenues and earned net profits surpassing $2,500," proclaimed Blanchard during the program's recent closing night in Charlottetown.
After having supervised the program with assistance from coordinator Ashley Arsenault, he can't stop bragging the merits of the program as well as the marvels that were accomplished by this year's young participants. He feels they demonstrated lots of motivation and conviction towards their entrepreneurial project, which suggests that they have the basics of what it takes to succeed in business when they'll be grown up.
"It is so impressive to see these kids go. We'd see some of them try certain things but if it didn't work, they'd adapt to increase their profitability or they'd add new lines of products to better meet their clients' needs," said Blanchard, development officer in charge of the youth sector for RDÉE Prince Edward Island, the organization that manages the provincial francophone edition of the program.
This year's group was made up of youth from West Prince, Evangeline and Charlottetown regions. After receiving some training on entrepreneurial basics, the participants were given a chance to present their business plans and to request grants of up to $100 for individuals and $150 for partnerships.
During the summer, staff supported the youth in their efforts and even arranged several sales opportunities for them. For example, tables were reserved for them at various festivals and events throughout the province. Others set up at various locations to sell their wares.
Blanchard took advantage of closing night to congratulate and thank the youth and their parents for the great work they did over the duration of the program, which ran about a month and a half.
He mentioned that the program is open to youth aged 8-16 years so next year, organizers will have to make additional efforts to promote the program among older teens.
One of the small businesses that had great success this past summer was invited to share its experiences and its recipe for success. Elliott Fraser and Michael MacEwen therefore explained, in detail, how their business Simply Sno Cones was able to generate such an impressive profit, in spite of the considerable investment they had to make to get their business off the ground.
Blanchard reminded everyone that next May, he'll tour the Island's French schools to promote the program and to invite youth to sign up. He therefore invited the children to take advantage of the winter time to mull over innovative ideas for small businesses for the summer of 2014.
Young Millionaires is managed provincially by the Central Development Corporation and is funded by the Atlantic Canada Opportunities Agency.
-30-
CUTLINE 2: Elliott Fraser, left, and his business partner Michael MacEwen, owners of Simply Sno Cones, are shown selling their icy products last summer at a farmers' market in Mayfield.
CUTLINE 2 : Gator On Wheels owner Félix Thériault, left, is seen with Simply Sno Cones owners Elliott Fraser and Michael MacEwen.
For more information:
Stephane Blanchard
Development officer, Youth sector
RDÉE Prince Edward Island
(902) 370-7333, Ext. 402
stephane@rdeeipe.org