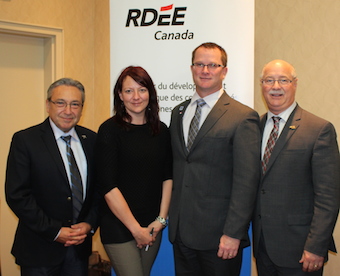 SUMMERSIDE – June 21, 2016 – More than 40 delegates, from all corners of the country, gathered for a first time ever in PEI June 17-18, for the annual meeting of RDÉE Canada, the national Francophone network for economic development and employability.
RDÉE Prince Edward Island graciously hosted the conference for its provincial, territorial and national counterparts at the Quality Inn in Summerside.
The annual meeting was held on Friday afternoon. Then, several representatives of the Acadian and Francophone community of PEI came to meet the delegates during a late afternoon reception. In the evening, the delegation was driven to the Centre Goéland in Cape Egmont for a delicious lobster supper.
Saturday morning, the participants received several presentations, including one about the situation of Island Acadians and Francophones, by Bonnie Gallant, RDÉE PEI's executive director. The delegates then got an opportunity to go lobster fishing with a Rustico fisherman.
Seen right after the annual meeting are, from left, Jean-Guy Bigeau, president and CEO of RDÉE Canada; Bonnie Gallant, executive director of RDÉE PEI; Martin Marcoux, president of RDÉE PEI; and Gilles Lanteigne, outgoing president of the RDÉE Canada board of directors.