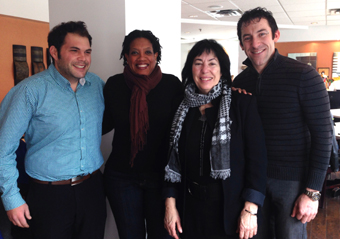 HALIFAX – February 13, 2014 – The members of RDÉE Canada, the national Francophone economic development and employability network, gathered from across the country for a two-day work session in the Nova Scotian capital to present their main achievements of the past year. With offices in nine provinces and three territories, RDÉE Canada and its members are focused on action and achieving real results.
To broaden its understanding of the economic issues facing the Francophone and Acadian communities, the RDÉE created four Working Groups on Economic Issues (WGEI), charged with analyzing potential solutions and implementing those that have member consensus.
The WGEIs address the areas of tourism, economic immigration, the Canadian Francophonie's economic space, and the green economy. This national meeting was an opportunity for members to discuss best practices and work on concrete and forward-looking projects.
Business people from Nova Scotia's Acadian community were invited to engage in a dialogue with economic development leaders from across the provinces and territories in the early evening of Tuesday, February 11.
Asked to comment on the groups' work at this gathering, Jean Léger, RDÉE Canada's Executive Director, said that "These teams have done some important work in the past 12 months and will give the Francophone and Acadian communities the chance to reap the benefits of this focused, coordinated effort." Details on the working groups are available on RDÉE Canada's website at www.rdee.ca.
"We are very pleased to have hosted RDÉE Canada's four working groups, representing the provinces and territories of the official language minority communities, in Halifax. These meetings have been an opportunity for CDÉNÉ members to discuss files that are active across Canada, with priorities that are similar to ours here in Nova Scotia," said Charles Gaudet, CDÉNÉ Board Chair.
Jean Léger stressed that the entire network had contributed to generating close to $100 million in investments, as well as creating more than 3,700 jobs and supporting the preparation of 935 business plans.
– 30 –
CUTLINE 1: Among the participants at the national RDÉE Canada gathering in Halifax were provincial and territorial representatives, from left, Martin Bouchard from RDÉE Northwest Territories, Marie-Laure Polydore from RDÉE Alberta, Annie Dell from RDÉE Ontario and Christian Gallant from RDÉE Prince Edward Island.
CUTLINE 2: Seen during the national meeting in Halifax are, from left, Jean Léger, executive director of RDÉE Canada; Julie Oliver, executive director of the CDÉNÉ; Jules Chiasson, executive director of Le Conseil communautaire du Grand-Havre; and Charles Gaudet, board chair of the CDÉNÉ.
Sources:
Patrick L. Doyon
Outreach Manager
RDÉE Canada
C. 613 720-5766
E. patrick.doyon@rdee.ca
Caroline LeBlanc
Communications Officer
Conseil de développement économique de la Nouvelle-Écosse (CDÉNÉ)
T. 902 424-7052
E. Cleblanc@cdene.ns.ca