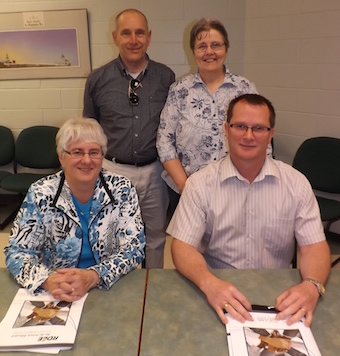 SUMMERSIDE – June 25, 2015 – The 2014-2015 financial year was a "very busy and very productive year" for RDÉE Prince Edward Island, the provincial francophone economic development council.
"In fact, we estimate the economic spinoffs of our actions at about $1.42 million! So, essentially, for every dollar that we received from our operational grant provider, we were able to generate about $3. That's a 300% return on investment!" proclaimed RDÉE outgoing president Martin Marcoux during the organization's annual meeting June 25 in Summerside.
He noted that the RDÉE continues to serve as the leader of Acadian and francophone economic development on PEI. Since it was formed 15 years ago, the RDÉE has literally supported projects from Tignish to Souris.
"From year to year, our projects keep multiplying themselves and for a good reason. Our status as the francophone economic development leader is undisputed by both federal and provincial governments as well as by the community in general. Our services are being sought more and more and we are regularly consulted on various economic issues, both from a Francophone and an Anglophone perspective."
Marcoux mentioned that the RDÉE has a "strong, dynamic and devoted team" that supported numerous projects over the past year.
He noted, among others, the support provided to the committee overseeing the implementation of the community governance restructuring, the organizing committee of the 2015 Jeux de l'Acadie finals and the committee that is working to expand the Evangeline School-Community Centre. He also mentioned that the Acadian and Francophone Chamber of Commerce and the Wellington Rural Action Centre, both under the RDÉE umbrella, provided much support to Island businesses again this year.
Executive director Bonnie Gallant highlighted developments in various sectors, including in economic immigration, tourism, community economic development and youth.
She too thanked the team, the board of directors and the funding partners.
In regards to future projects, Gallant said she expects the team will provide considerable support to the 150th anniversary celebrations of Canada's Confederation in 2017 and the World Acadian Congress in 2019. The RDÉE has 25 objectives for the coming year; the majority of activities return from year to year. Among the new activities are an economic mission to Quebec and an expansion of the Dragons' Contest.
-30-
CUTLINE: RDÉE PEI's new executive for 2015-2016 is composed of new president Jeannette Arsenault, seated, and executive member Martin Marcoux, who also becomes spokesperson for the Acadian and Francophone Chamber of Commerce. In the back row are new vice-president Hubert Lihrmann and executive member Angèle Arsenault. Re-elected secretary treasurer Donald DesRoches is absent from the photo. Two new councillors, Mike Bradley and Patrick Villeneuve, have been elected to the board.
For more information:
Raymond J. Arsenault
Communications Officer
RDÉE PEI Inc.
(902) 854-3439,Ext. 231
raymond@rdeeipe.org