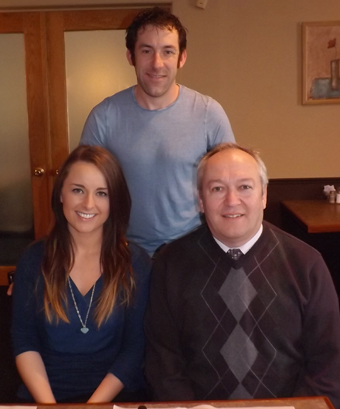 CHARLOTTOWN – May 9, 2014 – RDÉE Prince Edward Island is starting its new fiscal year with three changes to its staff. First, a brand new project officer (Rachel Chappell) has been hired; secondly, one of its development officers (Christian Gallant) has changed jobs and, thirdly, a well-known former employee (Robert Maddix) has rejoined the team 12 years after his departure.
"We are extremely lucky to have these three extremely competent people on our team to support our numerous projects which, we hope, will serve the Acadian and Francophone community of PEI as well as the global economy of the province for many years to come," says Bonnie Gallant, executive director of RDÉE PEI, the provincial francophone economic development council.
"They'll work primarily out of our Charlottetown office, located in the Carrefour de l'Isle-Saint-Jean, but they'll travel to various regions of the Island to serve their clients."
CHRISTIAN GALLANT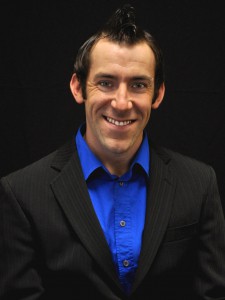 Christian Gallant of Charlottetown, who has been an economic development officer with the RDÉE since 2012, is being transferred from the Economic Immigration sector to the Tourism sector. He'll get to collaborate with several organizations and stakeholders in the implementation of several tourism initiatives on PEI. In the immediate future, it is expected that he will collaborate with the Evangeline Tourism Association on the implementation of some of its projects and that he will work on the second phase of a project to help "bilingualize" tourism services in Souris.
"Mr. Gallant, who will spend several days a month at our head office in Wellington, is already familiar with several of these projects – especially the one in Souris – since he had invested a lot of time in the implementation of the first phase of the project," notes the executive director. "He also has considerable experience in the field of cultural tourism, which will certainly help him in his new duties."
ROBERT MADDIX
Next, the executive director announced that the RDÉE has rehired one of its former managers, Robert Maddix of Charlottetown, as the new economic development officer responsible for Economic Immigration. Maddix managed the RDÉE back from 2000 to 2002 while the organization was just getting off the ground and still under the umbrella of the Baie Acadienne Development Corporation.
He had left the RDÉE to become regional advisor for Agriculture and Agri-Food Canada's Rural and Co-operative Secretariat in Charlottetown, a position he retained for 11 years. For the past seven months, he has been the executive director of the Central Development Corporation in Central Bedeque.
This former Member of the Legislative Assembly for Évangéline-Miscouche (1993-2000) also worked as a tourism development officer with the province (1988-1993) and executive director and facilitator with Jeunesse Acadienne (1980-1988).
"Robert's return to the RDÉE represents a full circle. He comes back after having amassed a large quantity of new knowledge, skills and connections throughout the economic development world as well as through his many volunteer involvements. He'll be able to use these skills to serve our clients and our community," said Gallant.
Among his duties, he will get to represent the RDÉE at various national, regional and provincial committees on economic immigration. He'll work closely with the employees of the LIENS project (Linking Economic Immigration to our Successes).
RACHEL CHAPPELL
Finally, the RDÉE has hired Rachel Chappell (nee Goguen) of Charlottetown as coordinator of the PERCÉ summer internship program for 20 weeks. Born in Grande-Digue, N.B., Rachel graduated with a certification in office administration from the New Brunswick Community College. In 2009, she moved to PEI and was hired as an administrative assistant with the Canada Summer Games. She then served as a client relations representative with Invesco Trimark and then as a bilingual problem resolution associate with Invesco Canada Ltd.
"Now that the recruiting for PERCÉ is completed, Mrs. Chappell will supervise the selection of 20 participants and then find them an appropriate location for an internship in their own field of studies," explains Gallant. "She'll also get to organize their week of training and orientation and then make sure that the internships are also proceeding well."
-30-
CUTLINE: The three RDÉE PEI staffers who are either arriving, returning or changing positions are, seated, brand new PERCÉ program coordinator Rachel Chappell, and new Immigration officer Robert Maddix; standing is Christian Gallant, the development officer who is moving to the Tourism sector.
For more information:
Bonnie Gallant
Executive director
RDÉE Prince Edward Island
(902) 854-3439, Ext. 232
bonnie@rdeeipe.org