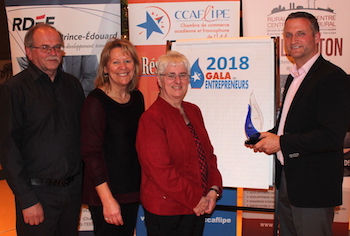 SUMMERSIDE – Dec. 9, 2017 – Fourteen of the 18 French-speaking finalists vying for the Acadian and Francophone Chamber of Commerce's business awards are women or businesses or organizations managed or co-managed by women. This number represents a definite record for the annual competition.
As he announced the list of finalists during the Chamber's Christmas party Friday in Summerside, spokesperson Pierre Gallant noted that « In the past, the Chamber often had difficulty getting sufficient numbers of nominations for its awards, especially those geared specifically to female entrepreneurs. We're very glad to say that this is no longer the case since women now appear to make up a majority of new business people and of those nominated for our awards. Obviously, they are doing more or are finally being recognized more for what they are accomplishing. »
Gallant also mentioned that the Chamber (or CCAFLIPE) is pleased that its selection committee chose, purely by coincidence, finalists from one end of the province to the other, literally from Tignish to Montague, while passing through Evangeline, Summerside, Borden-Carleton, Rustico and Charlottetown areas.
« And yes, those who come from the two ends of the province are women, » he added.
The CCAFLIPE received 23 nominations for its six awards this year; because it can only accept three finalists per category, it had to put aside several of the nominations received. The most popular category this year was Social Economy Business; seven nominations were submitted. Obviously, this is the category where the most cuts had to be made.
« Our finalists come from a very wide range of business sectors: the performing arts, tourism, health services, personal development, sales of various retail products and services and manufacturing, » said the spokesman. « The selection committee informed me that the scores were extremely tight in some of the categories, which obviously made their choices fairly difficult. The quality of submissions was also very good. »
FINALISTS
2018 Enterprising Youth of the Year Award, which is destined to honor a person aged 25 years or younger, as of March 17, 2018, who has shown impressive entrepreneurial and/or community involvement, especially during the past year. Groups that meet the age criteria were also eligible. Finalists are:
• Jaylynn Shields, a young sports and community leader from the Tignish area;
• Jérémie Buote, a young Rustico magician who was part of the « Carnaval en promenade » troupe last summer;
• Shelaine Gallant, a young Abram-Village leader who conceived and coordinated the first Honor Run in the Evangeline region to raise funds for the Canadian Cancer Society.
2018 Social Economy Business of the Year Award, which seeks to honor a business, co-op or organization that has an economic vocation and that has stood out because of its accomplishments and successes, including its impact on its community, especially in the past year. Finalists are:
• La Belle Alliance of Summerside ;
• L'Exposition agricole et le Festival acadien of Abram-Village ;
• Le Centre Goéland/Village des Sources L'Étoile Filante of Cape Egmont.
2018 Business Personality of the Year Award, which seeks to honor a personality from the business world, either an entrepreneur, a manager or an employee of a business, organization or co-op, who has stood out because of his or her customer service or accomplishments and leadership in the business world, especially in the past year. Finalists are:
• Ghislaine Cormier of Charlottetown (owner of the business The Great Shea, co-owner of Kaneshii Vinyl Press and executive director of la Fédération culturelle de l'Î.-P.-É.);
• Jeannette Arsenault of Borden-Carleton (co-owner of Shop & Play);
• Vanessa Lavoie of Charlottetown (manager of the Island Orthotics clinic and in charge of development).
2018 Immigrant Entrepreneur of the Year Award, which seeks to recognize an immigrant entrepreneur who has at least two years of entrepreneurial experience on PEI as of March 17, 2018, and who is recognized for his notable accomplishments and business spirit, especially during the past year. Finalists are:
• Angie Cormier of Cape Egmont (a Cajun born in Louisiana who runs AcA Consultants and who has just acquired The Bottle Houses);
• Gidéon Banahene of Charlottetown (born in Ghana, Africa, and now owner of Kaneshii Vinyl Press and Danso Bikes, which manufactures and sells bamboo bicycles);
• Pam Arora of Montague (originally from India and now co-owner and manager of handcrafted products for Pam and Joe Handcrafted).
2018 Distinguished Entrepreneur Award, for a person who has at least 25 years of entrepreneurial experience since this award aims to honor an entrepreneur who has distinguished himself/herself for efforts and accomplishments throughout his/her career; it's essentially a lifetime achievement award. The nominated person can be retired or still working. Finalists are:
• Angie Cormier of Cape Egmont (owner of AcA Consultants and The Bottle Houses);
• Jeannette Arsenault of Borden-Carleton (co-owner Shop & Play);
• Yvette Deschênes of Urbainville (owner-operator of Chez Yvette Bed & Breakfast).
2018 President's Award of Excellence, for a business that has stood out by showing excellence, especially over the past year, in one or more of the following categories: innovation, quality of service, job creation, greening effort and community impact. Finalists are:
• Kaneshii Vinyl Press, the business owned by Gidéon Banahene and Ghislaine Cormier of Charlottetown that presses vinyl records;
• Shop & Play, the Borden-Carleton gift shop owned and operated by Jeannette Arsenault and Don Maxfield;
• Vishten, the popular traditional music group based out of Charlottetown that continually tours all over the globe.
The winners of these awards will be announced during the Acadian Chamber's 17th annual Acadian Entrepreneurs' Gala at the Centre Belle-Alliance in Summerside March 17th.
-30-
CUTLINE: Pierre Gallant, right, spokesperson for the Acadian and Francophone Chamber of Commerce of PEI, teases three of the finalists from the Chamber's business award with one of the championship trophies. From left are finalists Alcide Bernard, president of the Agricultural Exhibition and Acadian Festival, Jeannette Gallant, a camp leader with the Centre Goéland – Village des Sources l'Étoile Filante, and Jeannette Arsenault, co-owner of the Shop & Play tourist gift shop in Borden-Carleton.
For more information:
Raymond J. Arsenault
Coordinator
Acadian and Francophone Chamber of Commerce of PEI
(902) 854-3439, ext. 231
raymond@rdeeipe.org