"La Grange à Fidèle" to kick off "Djâble dans l'corps" soirée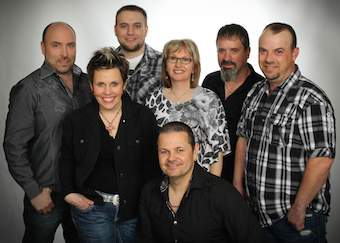 ABRAM-VILLAGE – August 12, 2016 – "Those who enjoy dancing will have lots of opportunity to party with Réveil and the Saul Good Band during our two popular nights of dancing at the Evangeline Area Agricultural Exhibition and Acadian Festival," announces event president Alcide Bernard. "As well, we'll help participants relive a few great moments from the past during a very entertaining show at the start of one of the evenings."
As always, these dances – actually the two biggest parties of the year in the community – will be held at the Evangeline Recreation Centre in Abram-Village.
The "Djâble dans l'corps" soirée, Friday, Sept. 2, will begin at 9 p.m. with an episode of the former concert series "La Grange à Fidèle" (Fidèle's Barn). Those who used to visit the former Acadian Pioneer Village in Mont-Carmel will remember that entertainer Paul D. Gallant used to host these famous evenings on Sunday nights. He would dress up as the farmer Fidèle and serve up a number of funny and entertaining songs with his band, The Outhouse Boys. He would also present invited guests and tell a few stories. One just never knew what to expect.
"We are pleased to announce that Paul D. Gallant, who has been living in Chéticamp, N.S., for a number of years, will be returning to the Island to host this first, nostalgic part of the evening," said the president. "We know that he'll deliver a very entertaining show."
For the second part of the evening, the popular bilingual Saul Good Band (a play on words with "It's All Good") will get the place shaking with its country-rock songs. Guitarist-singer Jason Arsenault, drummer Maurice Hashie, bass player Andy Gallant and guitarist-singer Chris Ahearn will maintain the party atmosphere in the Evangeline Recreation Centre until the wee hours of the morning. This local group had really impressed people at last year's festival with its energetic interpretations of popular Acadian, Canadian and American songs. The band is therefore back by popular demand.
EVANGELINE AND GABRIEL DANCE
Saturday, Sept. 3, at the Evangeline and Gabriel Dance, the one and only Réveil will get everyone dancing, starting at 10 p.m. This is the ninth time this fantastic group will be playing at the festival. Réveil, recognized as one of the most popular bands in Acadia, was formed in 2006. The band is currently made up of Maurice Johnson on bass, Joey McKinnon on drums, Brian Hébert on electric guitar, Denise Daigle on fiddle, Richard Bourque on acoustic guitar, mandolin and banjo, Kevin Arsenault on acoustic guitar and vocals and Nancy Blanchard on vocals.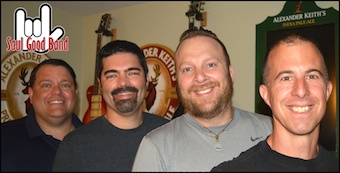 Throughout the years, they've recorded four albums: Sans problem (2007), Ah! Qu'il faut beau! (2009), On y va!!! (2012) and Allez, buvez this past May. All original songs are by the brother-and-sister duo of Kevin Arsenault and Nancy Blanchard. Their music is often played on Francophone radio stations throughout Atlantic Canada. Whenever there is a major Acadian show in the Maritimes, Réveil is always invited to perform.
These two dances are reserved for adults only.
-30-
CUTLINE 1: The Acadian band Réveil from New Brunswick, in its ninth performance at the Evangeline Area Agricultural Exhibition and Acadian Festival, will energize the Evangeline and Gabriel Dance Saturday, Sept. 3, in Abram-Village.
CUTLINE 2: Paul D. Gallant will host an episode of the show "La Grange à Fidèle" during the first part of the Djâble dans l'corps soirée Friday, Sept. 2, in Abram-Village.
CUTLINE 3: The Saul Good Band, featuring, from left, Maurice Hashie, Andy Gallant, Chris Ahearn and Jason Arsenault, will create a bilingual country-rocking atmosphere at the Djâble dans l'corps soirée Friday, Sept. 2, in Abram-Village.
For more information:
Alcide Bernard
President
Evangeline Area Agricultural Exhibition and Acadian Festival
(902) 432-2425
expositionfestival@gmail.com