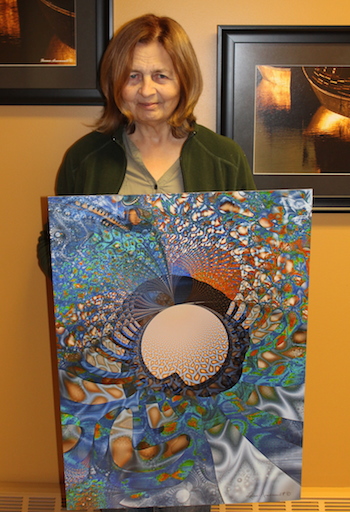 CHARLOTTETOWN – Oct. 28, 2016 – Eight bilingual entrepreneurs from all over PEI – selling everything from book illustrations, digital art, blueberries and produce to sports uniforms, hands-free doorway and bathroom technology, beauty products and bamboo bicycles – are heading out to Montreal Oct. 31 to Nov. 3. They'll to try to drum up some extra business for their respective companies, which will help them contribute more to the Island economy.
They're part of a second sales mission organized by RDÉE Prince Edward Island, the provincial francophone economic development council, in collaboration with Innovation PEI and the Atlantic Canada Opportunities Agency.
"Last year, we took six businesses to Montreal on our first sales mission," explains mission coordinator Robert Maddix. "As a direct results of the meetings they had with potential clients on this trip, they were able to negotiate sales contracts worth approximately $250,000."
"This year, Clientis, the same consulting firm we hired last year, has set up meetings for each of our participants with eight to 12 potential clients or business partners," adds Maddix. "We're therefore again hoping for extremely positive sales."
The coordinator noted that all participating businesses from PEI were briefed on how these sales mission work and how to prepare an effective sales pitch. They then had to make sure that they had ample information about their products and services in French since most of their potential clients in Montreal speak and do business in that language.
MATCHMAKING
Clientis also obtained in-depth knowledge of each participant's wares and services so that it could find them the best possible matches in Montreal. "Clientis does a lot of work to find potential buyers who are available on those dates and who are interested in buying at this particular time," said Maddix. "Its consultants know the Montreal market quite well and are therefore able to come up with Quebec buyers who are willing to consider doing business with PEI suppliers."
Each morning of the mission, the Island companies will meet to go over their schedules. Each one will then head out to meet with his or her potential buyers. At the end of the day, they will all meet again to review their experiences and share things they might have learned that other participants might be able to use.
Maddix said the mission project will cover 40 per cent of travel, lodging and meal expenses for the participating Island businesses.
SALES MISSION PARTICIPANTS
The participating businesses from PEI are:
WELL FROG ART – Visual artist Lucie B. Bellemare is looking for children's book publishers so that she could illustrate their books. She also offers arts and mediation training.
PHO ARTS VISUAL IMAGES – Photographer Léona Arsenault is seeking buyers for her digital art and designs, primarily those who work in interior designing and decorating.
"IT'S ALL GOOD" SPORTSWEAR – Gilles Arsenault is seeking store chains to buy and sell his sportswear.
TOP FEED – Vaughn Murphy and Raphael Aguirre are looking for partners to set up a national e-commerce system to sell their naturally grown fruits and vegetables.
BLUEBERRY PRODUCER – Sylvain Gagné is looking for more buyers for a group of small blueberry producers of PEI.
GREAT SHEA – Ghislaine Cormier is looking for buyers for her natural beauty products, particularly her "Shea Butter".
FORTUNA BAMBOO – Gidéon Banahene is looking for sports stores or bicycle stores to purchase and sell his bamboo bicycles.
UBERLOO INTERNATIONAL – Inventor Ray Brow is looking to restaurants, hotels and hospitals to purchase his electronic hands-free doorway and bathroom products that prevents the spread of germs.
-30-
CUTLINE: Visual artist Leona Arsenault from Pho Arts Visual Images is one of eight Island entrepreneurs looking to sell their products during a sales mission to Montreal Oct. 31 to Nov. 4.
For more information:
Robert Maddix
Mission coordinator
RDÉE Prince-Edward Island
(902) 370-7333, Ext. 403
robert@rdeeipe.org