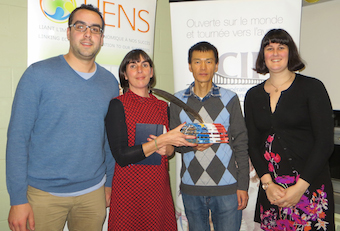 CHARLOTTETOWN – Feb. 25, 2015 – Last fall, a round table on francophone immigration had provided a great opportunity for French-speaking newcomers to share openly with members of their host community about the successes and challenges they encountered as they integrated themselves into their new province of adoption.
This open-hearted discussion will continue Thursday, March 12, from 6-8 p.m. at the Carrefour de l'Isle-Saint-Jean in Charlottetown during a second round table organized jointly by La Coopérative d'intégration francophone (CIF), RDÉE Prince Edward Island's LIENS project and the Carrefour de l'Isle-Saint-Jean. This evening is part of the Rendez-vous de la francophonie slate of events.
All those who are interested in cultural diversity and the integration of newcomers are cordially invited to this evening, which will be moderated by Carlo Lavoie, director of the Modern Languages Department and coordinator of the Acadian Studies Program at the University of Prince Edward Island.
« This event will be an excellent opportunity for Island Francophones and Francophiles to discuss with Francophone newcomers about their integration experience. Friendships were made among some of the participants at our first round table; we hope that more friendships will be made during this second event, » said CIF director Jacinthe Lemire.
This round table is funded by Citizenship and Immigration Canada.
To register for this free event, contact Catherine Rioux at (902) 370-7333, Ext. 404, or at catherine@rdeeipe.org by March. 9.
-30-
CUTLINE: Seen during last fall's round table are, from left, Michaël Paulin, settlement and community outreach coordinator for the Eastern region of the Coopérative d'intégration francophone, immigrants Amélie Bétus and William Yin, and Catherine Rioux, co-ordinator of the LIENS project. (Photo by La Voix Acadienne)
For more information:
Catherine Rioux
Coordinator
LIENS project
(902) 370-7333, Ext. 404
catherine@rdeeipe.org