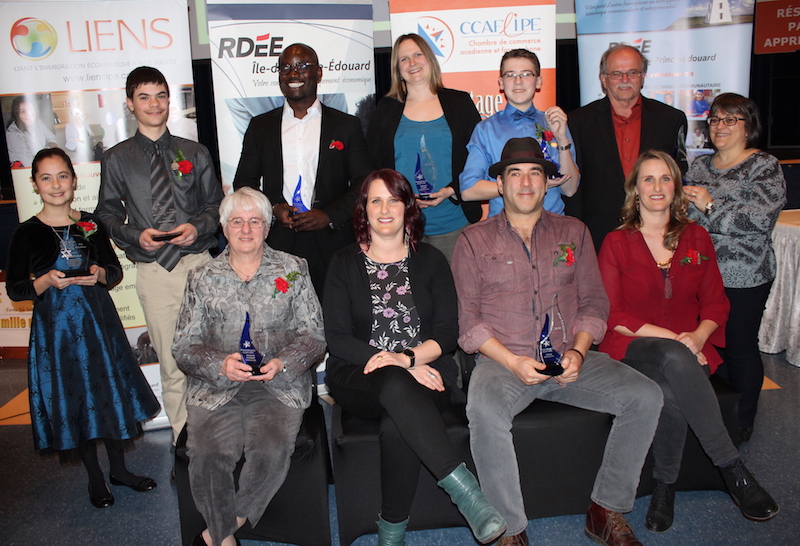 SUMMERSIDE – March 18, 2018 – A young magician, internationally renowned musicians, a highly reputed Acadian festival, in addition to manufacturers and retailers of toys, souvenirs, bicycles, vinyl records and skin-care products have just earned seven awards from the Acadian and Francophone Chamber of Commerce of PEI (CCAFLIPE).
The winners received trophies and much praise for their vast contributions to the Island economy and community during the 2018 Acadian Entrepreneurs' Gala at the Centre Belle-Alliance in Summerside Saturday, March 17. This popular event, brimming with color and ceremony, is the Chamber's most important night of the year. It attracted 138 people this year.
The awards handed out at this 17th edition of the Gala, along with their winners and sponsors, are:
2018 President's Award of Excellence – Vishten, the globe-trotting Acadian-Celtic group composed of Pastelle and Emmanuelle Leblanc and Pascal Miousse (sponsored by the Atlantic Canada Opportunities Agency);
2018 Distinguished Entrepreneur Award – Jeannette Arsenault of Summerside, co-owner of Shop & Play, formerly Cavendish Figurines (sponsored by RDÉE Prince Edward Island);
2018 Immigrant Entrepreneur Award – Gideon Banahene of Charlottetown, owner of Danso Bikes and Kaneshii Vinyl Press, and partner in The Great Shea (sponsored by the LIENS project);
2018 Social Economy Business Award – The Evangeline Area Agricultural Exhibition and Acadian Festival, Abram-Village (sponsored by the Evangeline-Central Credit Union);
2018 Business Personality Award – Ghislaine Cormier of Charlottetown, owner of The Great Shea and partner in Kaneshii Vinyl Press (sponsored by Innovation PEI);
2018 Enterprising Youth Award – Jérémie Buote of Rustico, magician-comedian with the Carnaval en Promenade (sponsored by CBDC Central PEI);
2017 Young Millionaires Award – Isabelle Fisk of « Izzy's Rockpile » and Nicholas Sauvé of « Nick's Spinners », a brother-and-sister duo from Birch Hill (sponsored by Radio-Canada Acadie).
Chamber spokesperson Pierre Gallant noted in his gala kickoff message that the winners, as well as the other 12 finalists, share various traits. « First, they all provide exceptional customer service. Nowadays, that's worth its weight in gold. And secondly, our finalists all have a distinct advantage over the majority of their competitors: they all provide services in two or three languages. »
The spokesperson noted that three quarters of this year's finalists were women or businesses or organizations managed or co-managed by women. This proportion, he said, is « definitely a record ».
« We are therefore extremely pleased to see that women are taking the place they rightfully deserve in the Acadian and francophone business world as well as on the provincial scene. You are all tremendous role models for the young girls and women who will follow in your footsteps. So, congratulations and keep up your fantastic work. »
Egmont MP Robert Morrissey and Sonny Gallant, provincial Minister of Work Force and Advanced Learning, both officially congratulated the winners, the finalists and the organizers of the event. Chris Palmer, Minister of Economic Development and Tourism, attended the event for a first time to present the $10,000 championship cheque to the winner of the Dragons' Contest.
Among the other sponsors of the evening were the Royal Bank of Canada (RBC), ProMax 2000 and the 2018 Dragons' Contest.
-30-
CUTLINE: The winners from the 2018 Acadian Entrepreneurs' Gala, hosted by the Acadian and Francophone Chamber of Commerce of PEI, are: seated, from left, Jeannette Arsenault (2018 Distinguished Entrepreneur), Emmanuelle LeBlanc, Pascal Miousse and Pastelle LeBlanc from the group Vishten (2018 President's Award of Excellence); standing, from left, Isabelle Fisk and Nicholas Sauvé (2017 Young Millionaires), Gideon Banahene (2018 Immigrant Entrepreneur), Ghislaine Cormier (2018 Business Personality), Jérémie Buote (2018 Enterprising Youth) and
Alcide Bernard and Jeanne Gallant from the Evangeline Area Agricultural Exhibition and Acadian Festival (2018 Social Economy Business).
**************************************************
WINNERS' BIOGRAPHIES
NICHOLAS SAUVÉ AND ISABELLE FISK – 2017 YOUNG MILLIONAIRES
This brother-and-sister duo from Birch Hill entered the business world last summer through the French edition of the Young Millionaires Program. Nicholas Sauvé, 14, established « Nick's Spinners » to produce and sell his own versions of « fidget spinner » toys. Over the summer months, he succeeded in selling the vast majority of the spinners he had produced. Isabelle Fisk, 12, has always been fascinated with rocks and colors. She therefore decided to establish « Izzy's Rockpile » to paint rocks in various colors and motifs to sell as souvenirs. Her most popular model was the rock painted in the colors of the Acadian flag. She sold an amazing quantity of her products. Nicholas and Isabelle often shared booth spaces at various events and festivals from the Evangeline region to Alberton. The program coordinators considered these two to be excellent and innovative salespeople who are very devoted and passionate, and always ready to learn.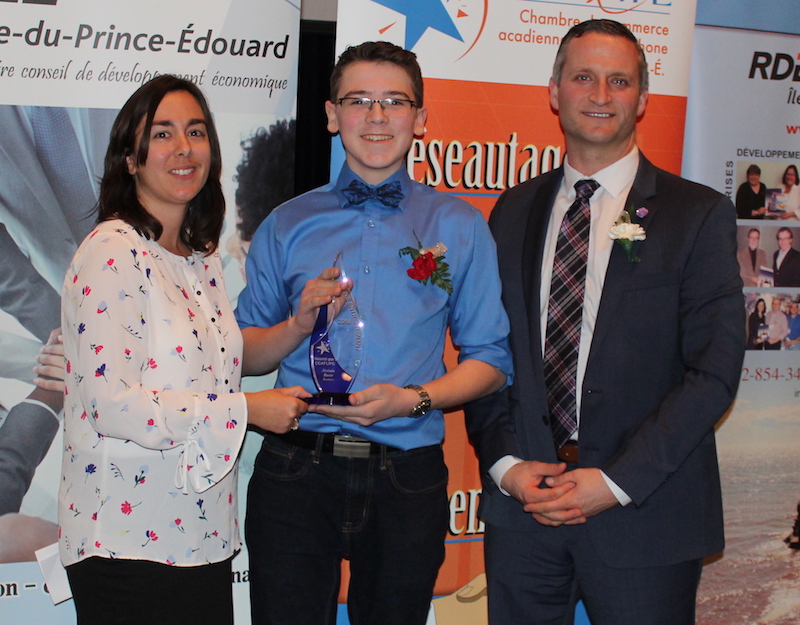 JÉRÉMIE BUOTE – 2018 ENTERPRISING YOUTH
Inspired by his parents Simone Pineau and Marcel Buote of Rustico, Jérémie Buote, 15, got involved in the Acadian cause from a very early age. He sits on the boards of directors of Jeunesse acadienne et francophone de l'Î.-P.-É., the Acadian National Society, the Acadian Youth Commission and the Acadian Council of Rustico. In 2012, Jérémie participated in the French edition of the Young Millionaires Program and last summer, through a Careers course at school, he also got heavily involved in the Young Gardening Entrepreneurs project. The first member of the project's sales team, he proved to have lots of great interpersonal skills, perseverance and negotiating abilities. He was also the captain of the provincial improv team at the Jeux de la francophone canadienne in 2017. Last summer, he had three part-time jobs. The one that got him the most attention was undoubtedly his role as a magician with the touring Carnaval en Promenade, hosted by the Fédération culturelle de l'Î.-P.-É. Performing magic since he was 11 years old, this young man takes to the stage like an old pro to entertain and fascinate crowds with his numerous magic tricks and his natural comedic abilities. Other finalists in this category were Shelaine Gallant of Abram-Village and Jaylynn Fields of Tignish.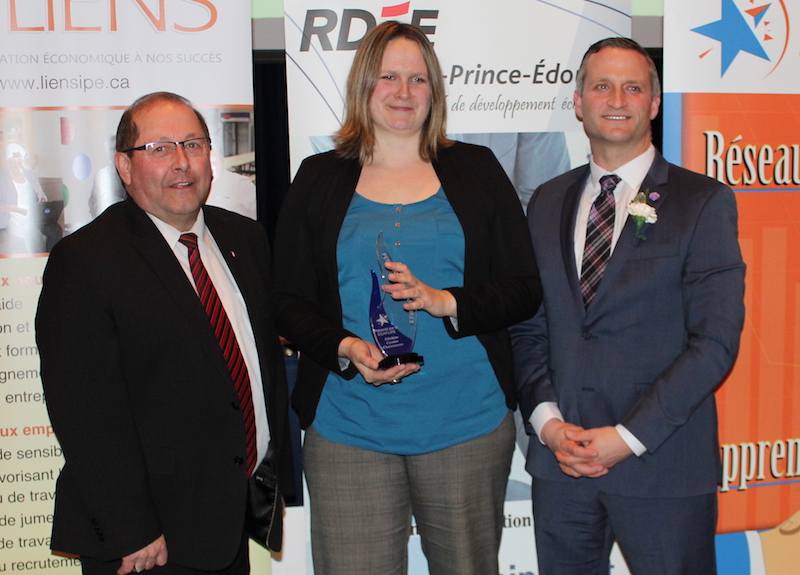 GHISLAINE CORMIER – 2018 BUSINESS PERSONALITY
Ghislaine Cormier first studied business at the University of Montreal. She has been the executive director of the Fédération culturelle de l'Î.-P.-É. since 2009. In 2013, she started the business The Great Shea in Charlottetown. She imports her base product, shea butter, from Ghana. Here, she mixes it with a variety of fragrances and local ingredients to transform them into various high-end skin care products: soaps, lotions and lip balm. Her products are sold individually or in baskets, also produced in Ghana. They are currently available at various farmers' markets, craft fairs and at Rawesome's in Charlottetown. Her sales keep growing. Also in 2016, she and friend Gideon Banahene began the journey to establish Kaneshii Vinyl Press. After obtaining some governmental assistance and winning last year's $10,000 Dragons' Contest prize last year, they opened their doors to produce quality vinyl music records. Their primary market, at the present, is the Maritimes and Quebec. Since sales are already way ahead of projections, they will soon start trying to break into the Louisiana, France and Eastern United States markets. The other finalists in this category were Jeannette Arsenault of Shop & Play in Borden-Carleton and Vanessa Lavoie of Island Orthotics in Charlottetown.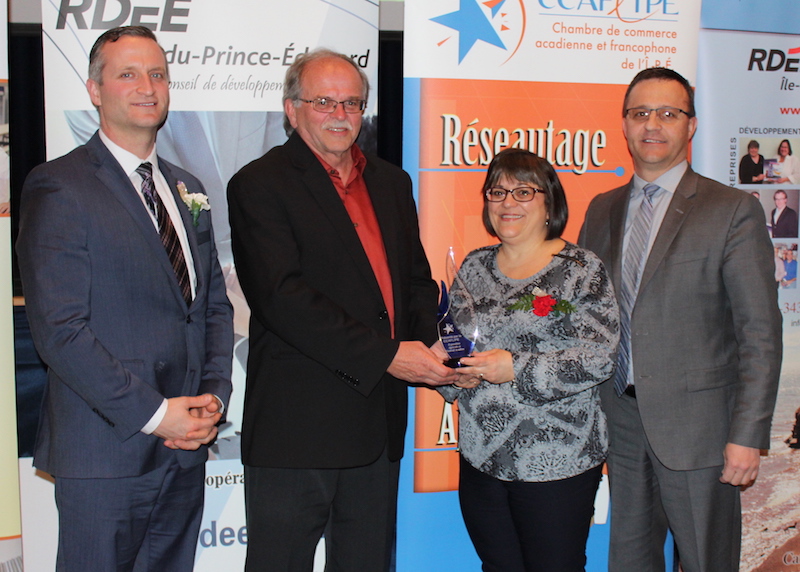 EVANGELINE AREA AGRICULTURAL EXHIBITION AND ACADIAN FESTIVAL –
2018 SOCIAL ECONOMY BUSINESS
A brand-new Acadian agricultural exhibition was established 115 years ago in Urbainville. In 1905, Mont-Carmel farmers joined those from Egmont Bay to create the expanded Egmont Bay and Mont-Carmel Agricultural Exhibition. They moved the event to Egmont Bay and finally, in 1939, to Abram-Village, where it remains to this day. To add a cultural dimension to the event, the Acadian Festival was created in 1971. The combined event includes dances, variety shows and countless cultural and agricultural events. Nowadays, this biggest Acadian party of the year attracts some 9,000 visitors and extends over four days. Its 12-person board of directors is extremely devoted to its management and organization throughout the entire year. The success of the event is assured by the work of about 550 volunteers. In 2017, four new structures were built on the grounds to replace older buildings; they are the Artisans' Hall, the Founders' Hall (which houses a permanent display commemorating the event's 115 previous exhibitions and 47 previous festivals), a three-section canteen and an outdoor stage. These new facilities help prepare the grounds for the hosting of the 2019 World Acadian Congress. Other finalists in this category were La Belle Alliance of Summerside and the Centre Goéland / Village des Sources l'Étoile Filante of Cape Egmont.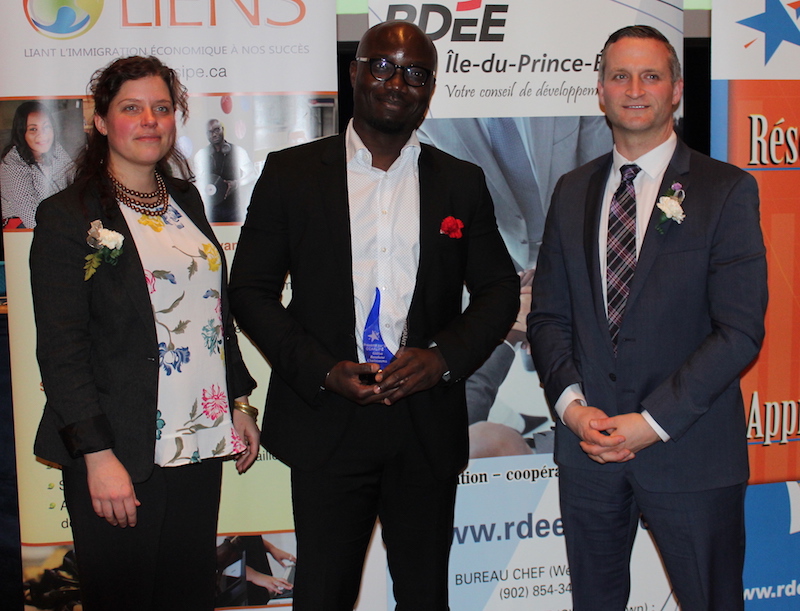 GIDEON BANAHENE – 2018 IMMIGRANT ENTREPRENEUR
After studying in New York in 2004, Gideon Banahene returned to his native Ghana where he decided to follow in his mother's footsteps and start a career in business. He moved to PEI where he completed his studies at UPEI. He luckily got an internship with Industry Canada. He then held a few different jobs. Finally, in 2014, he succeeded in launching Danso Bikes, which manufactures and sells high-valued bamboo bicycles. The assembly takes place in Ghana while most of his sales are in Quebec, Vancouver and California, where upscale trends are all the rage. He offers four models: the city bike, the road bike, the tricycle and the electric bike. Their prices vary from $900-$2,500. Today, the business focuses mainly on online sales through networks such as Amazon and Etsy. In 2017, Banahene and Ghislaine Cormier threw themselves into the vinyl disc pressing industry. Kaneshii Vinyl Press focuses primarily on independent artists in the Atlantic and Quebec regions. In its first six months, Kaneshii did work for about 100 clients, considerably surpassing all expectations. The business is already considering a major expansion in the near future. Other finalists in this category were Pam Arora from Pam & Joe Handcrafted Ltd. of Charlottetown and Angie Cormier of AcA Consultants of Cape Egmont.
JEANNETTE ARSENAULT – 2018 DISTINGUISHED ENTREPRENEUR
A number of years back, as Jeannette Arsenault of Summerside was organizing a national conference with Don Maxfield, she realized that nobody was producing an Anne of Green Gables figurine. That's when they hatched the idea of establishing a business that would specialize in creating high-quality ceramic figurines focussing on the famous storybook characters of Lucy Maud Montgomery. Cavendish Figurines set up its production plant at the Summerside Industrial Park in 1989. The demand for their magnificent products kept increasing. When they heard that a tourist village was being built in Borden-Carleton at the food of the then-brand-new Confederation Bridge, they saw the huge potential of a move to the location. They therefore built their large gift shop and production area at the entrance to Gateway Village. Immediately, sales shot straight up since the village attracts about 100 000 visitors a year. The company recently changed its store name to Shop & Play. Jeannette has mentored dozens of entrepreneurs. She has also sat on more than 50 committees and boards, mostly related to tourism or business, at the local, provincial and national levels. She has earned a number of awards and recognitions, including the Queen's Jubilee Medal and the Canada 150 Medal. The Women's Executive Network also named her one of the « 100 Most Powerful Women in Canada ». Other finalists in this category were Angie Cormier of AcA Consultants of Cape Egmont and Yvette Deschênes of Chez Yvette Bed & Breakfast in Urbainville.
VISHTEN – 2018 PRESIDENT'S AWARD OF EXCELLENCE
Twin sisters Pastelle and Emmanuelle Leblanc were raised in a very musical atmosphere in Mont-Carmel. They performed in various formations over the year but eventually formed the professional group Vishten in 2003. The band bewitches the public with its mash-up of traditional French songs and original instrumentals. It fuses Celtic and Acadian music with a touch of modern rock and indie-folk influences. Several top-shelf musicians have been members of the group over the years, but its most recent incarnation brings together the Leblanc sisters with well-known Magdalen Islands fiddler Pascal Miousse. Each year, the trio performs 80-100 shows throughout the world, often serving as ambassadors of the Island's Acadian culture. They've recorded five albums: Vishten, 11:11, Live, Mosaïk and Terre Rouge. Their music has been heard in the movies Finding Anne and Louis Cyr. Vishten has just released the second edition of its book « Compositions et Tounes Traditionnelles ». The group has won five ECMA awards, four Music PEI awards and an award from La Société professionnelle des auteurs et compositeurs du Québec. Other finalists in this category were Shop & Play of Borden-Carleton and Kaneshii Vinyl Press of Charlottetown.
For more information:
Raymond J. Arsenault
Coordinator
2018 Entrepreneurs' Gala
raymond@rdeeipe.org