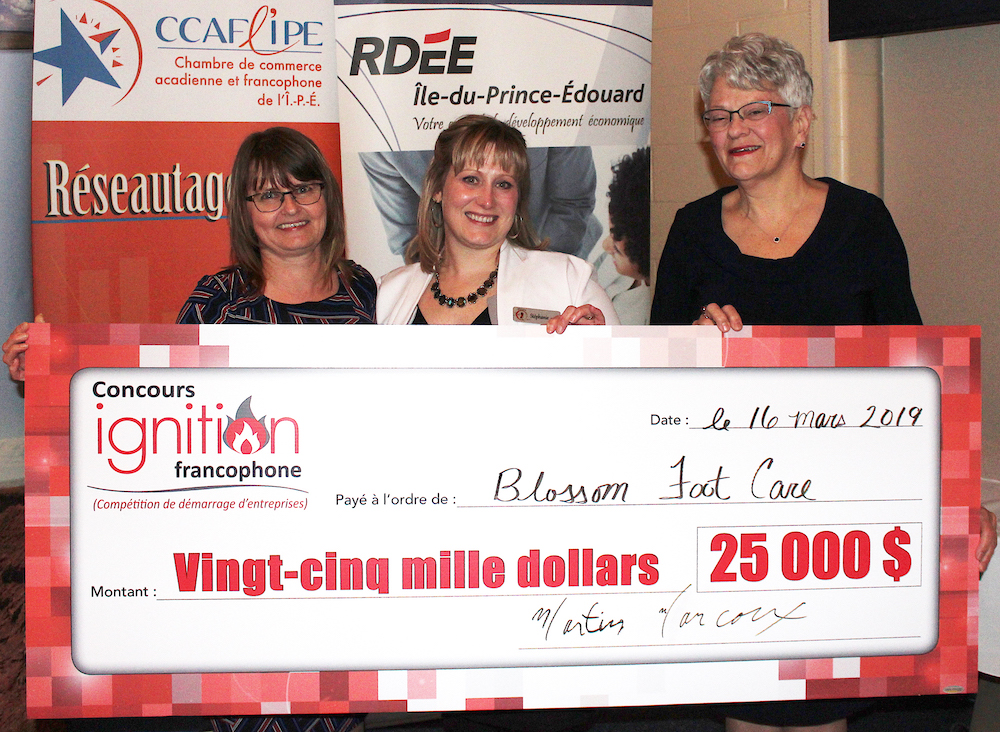 SUMMERSIDE – March 17, 2019 – With the $25,000 championship prize she won during the first-ever edition of RDÉE Prince Edward Island's Francophone Ignition Contest, bilingual podiatrist Stéphanie St-Onge will set up an additional treatment room in her brand new Blossom Foot Care clinic in Summerside, modernize her equipment and set up a website.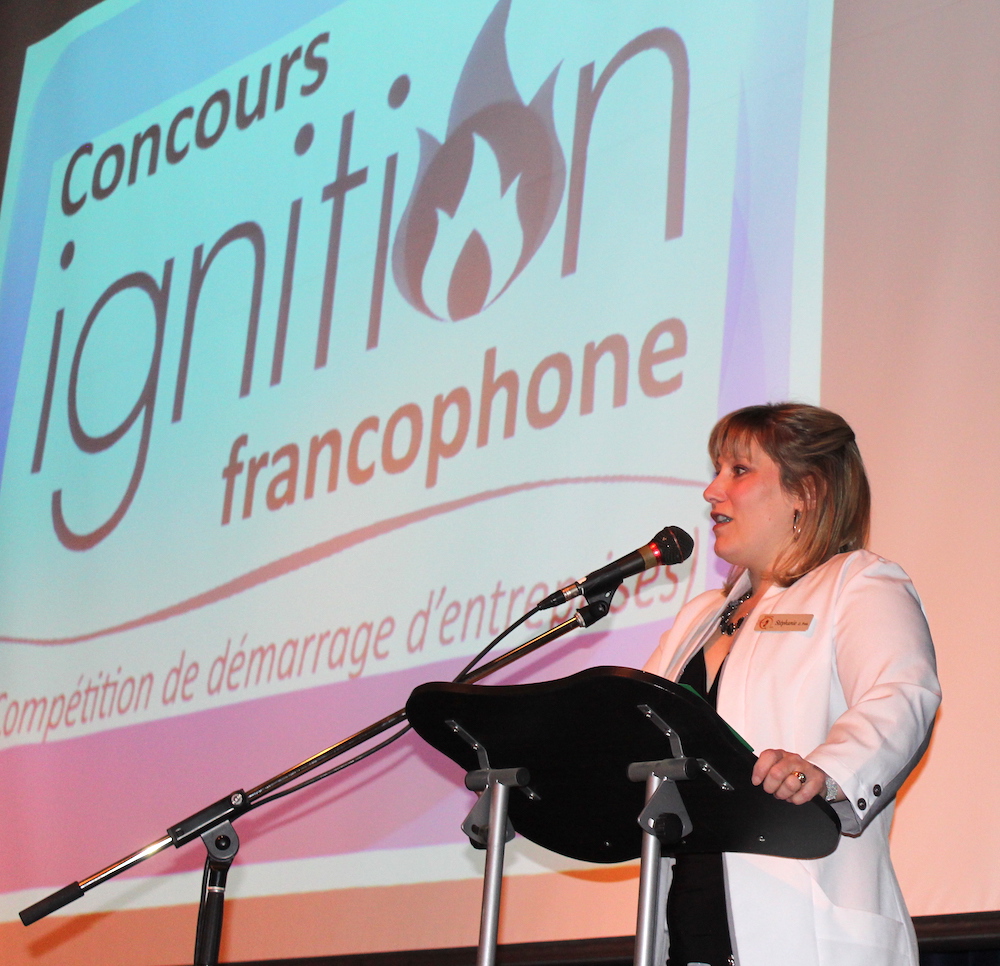 St-Onge graciously accepted her giant cheque from Lieutenant Governor Antoinette Perry and contest coordinator Velma Robichaud following the championship round of the entrepreneurial start-up competition (formerly called the Dragons' Contest), Saturday, March 16. The dramatic event was held jointly with the 2019 Acadian Entrepreneurs' Gala at the Centre Belle-Alliance in Summerside.
But before she accepted her prize, the champion made it a priority to go hug and congratulate the other two finalists, Belgo Transport (Philippe Guidon and Nathalie Coupet of North Wiltshire) and Elm Grove Centre (Josée Gallant-Gordon and Bobby Gordon of Alma). When she finally made it to the stage, she encouraged them both to keep persevering and pursuing their entrepreneurial dream, reminding them that even if one door closes, it doesn't mean that all doors are closed.
She admitted that last year, when she had been a finalist in RDÉE PEI's former Dragons' Contest, she had been extremely disappointed at losing. But now, she consoles herself with the fact that at that time, she would have only won $10,000 while this year, the value of the prize increased to $25,000 (since it is in reality one of the regular prizes given by Innovation PEI's Ignition Start-Up Fund).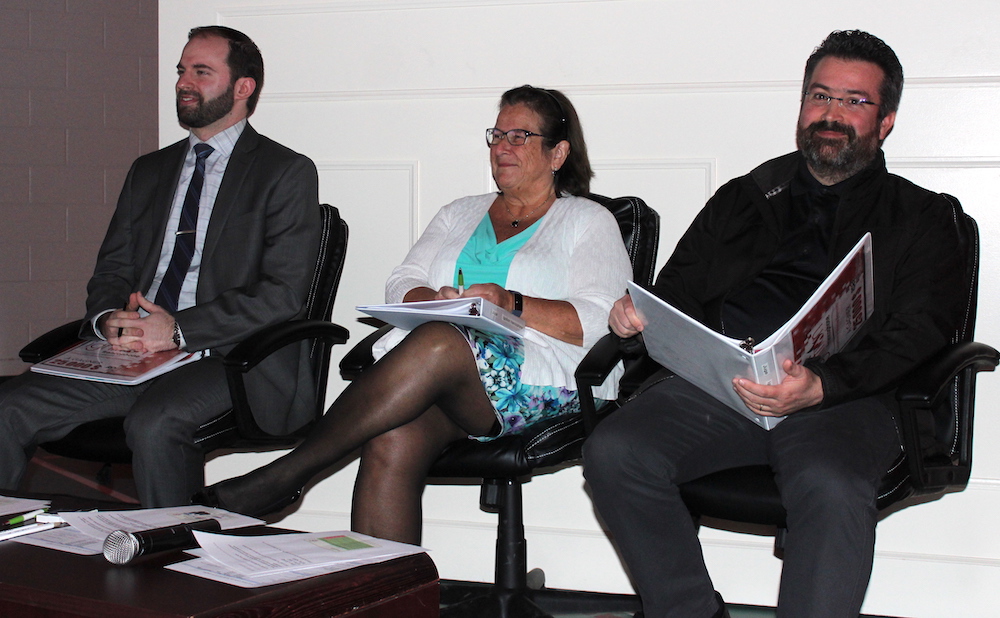 An extremely energetic esthetician, St-Onge established Blossom Beauty Care in Summerside in 2011. She quickly saw a great need and a huge clientele for a foot care service. Since she is also a podiatrist, she transformed her business into Blossom Foot Care. She now concentrates on the health and care of feet, sells foot-care products, offers a house-call service (including manors and hospitals) and delivers educational sessions. Her new clinic is located on Rufus Street.
The champion obviously greatly appreciated the decision made by the panel of judges, which consisted of three respected business people: Marc Côté from Evangeline-Central Credit Union, Linda Lowther from the Lowther Group and Islands Frozen Yogurt, and Olivier Bertrand from xoxolo.com, les Druides du Web and Elumicate from Moncton, NB.
FEROCIOUS COMPETITION
The competition during the finals was calmly ferocious as the two other finalists also presented exceptionally valid and deserving entrepreneurial projects. Philippe Guidon had solidly presented a development project for his trucking company, Belgo Transport. He is aiming to make his business more ecologically sound by, among other things, developing with the UPEI Department of Engineering a skirting system for this trucks that would make them more aerodynamic and therefore more fuel-efficient. He is also planning to sell these skirts to other truckers and trucking companies.
Clinical social worker Josée Gallant-Gordon was proposing an equine therapy project, jointly with her husband and their herd of horses, for people suffering from post-traumatic stress, trauma, depression and anxiety. Their business will be called Elm Grove Centre.
All three contestants gave animated, seven-minute presentations before the judges (in the style seen on the TV shows Dragons' Den and Shark Tank) and an appreciative audience of about 125 people. The judges could then ask them seven minutes' worth of questions.
« After the three magnificent presentations, it was absolutely impossible to predict who the judges were going to pick since all three contestants showed great strengths, as much in their prepared presentations as in their off-the-cuff answers, » noted contest coordinator Velma Robichaud. "The judges informed me that the scores were extremely tight and that they would really have loved to be able to give $25,000 prizes to all three contestants."
THE CONTEST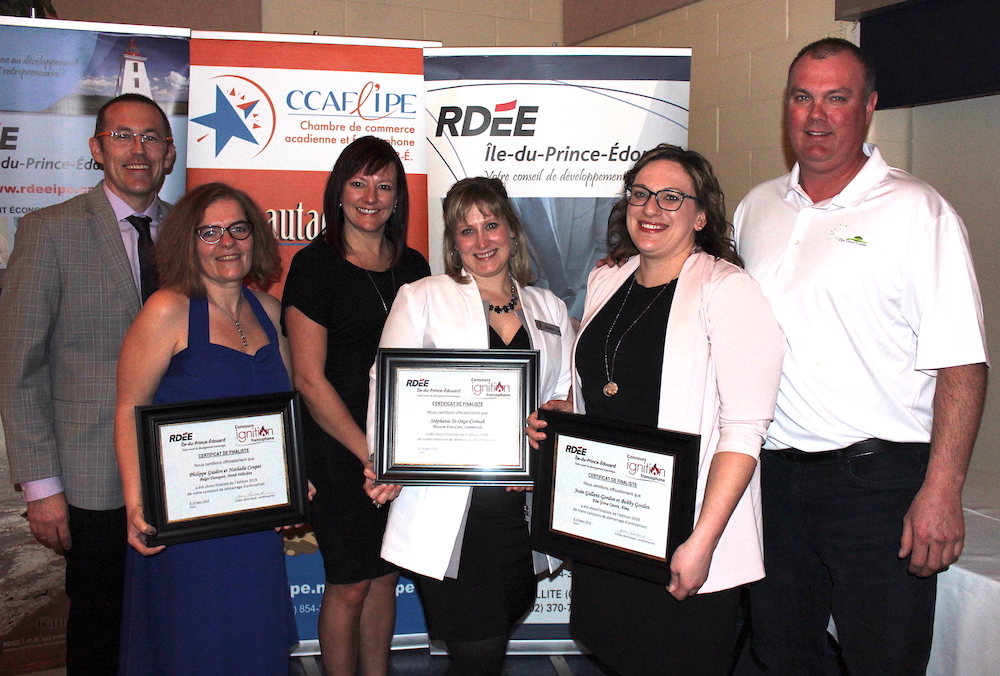 The Francophone Ignition Contest, through the Collège de l'Île, first offered all eight co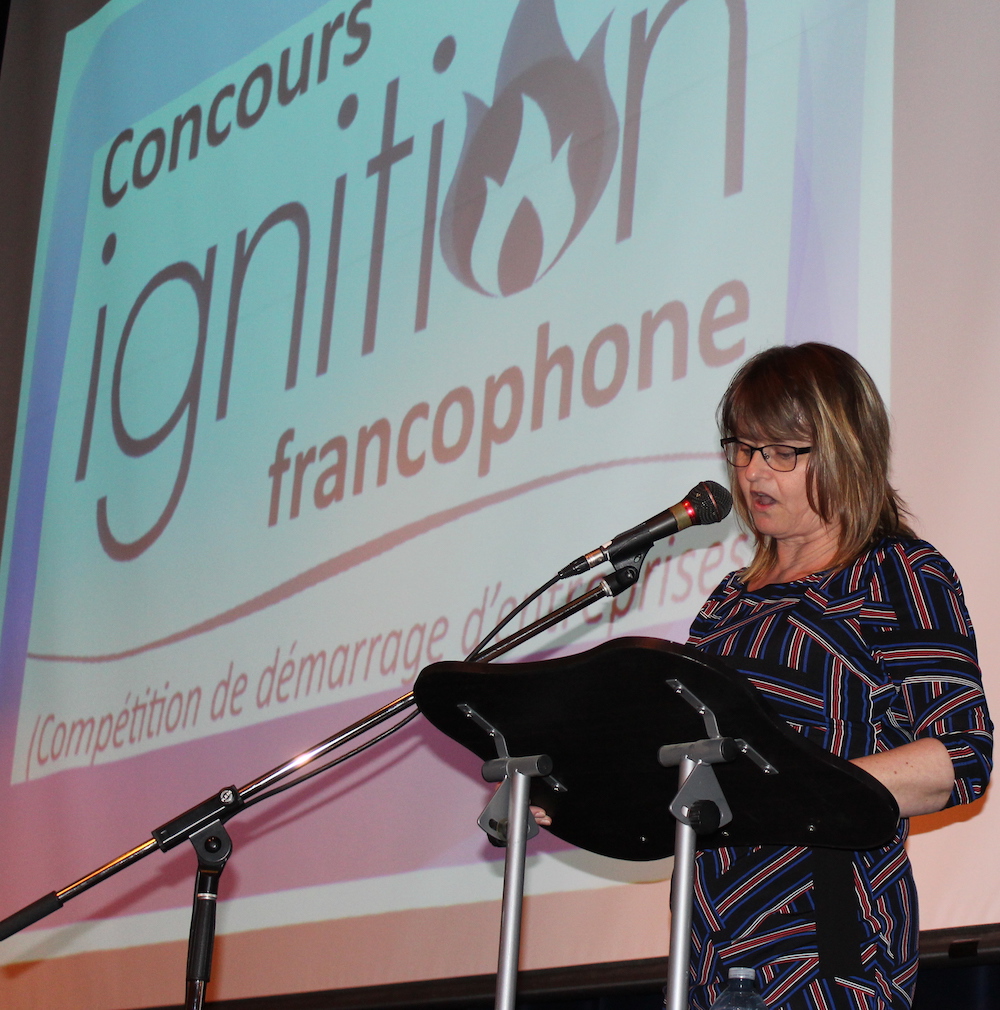 ntestants some training in Insights Discovery (on knowledge of self and on styles of communication and interaction). Ron and Connie Robichaud from C&R Care and Consulting then trained them on the pitching of entrepreneurial projects, both from a perspective of presenting financial projections and explaining their project to the use of the verbal and body language to influence the judges.
The contestants then had the opportunity to pitch their business proposal to a local panel of judges, who then chose the three who would get to compete in the finals.
In addition to the $25,000 investment, the winners receive a free one-year membership to the Summerside and Charlottetown Chambers of Commerce. The three finalists get a free membership to the Acadian and Francophone Chamber of Commerce of PEI.
The other sponsors of the 2019 Francophone Ignition Contest were the Atlantic Canada Opportunities Agency and RDÉE Prince Edward Island.
-30-
PHOTO 1: Stéphanie St-Onge, centre, champion of the 2019 Francophone Ignition Contest staged by RDÉE PEI March 16, accepts her $25,000 cheque from contest coordinator Velma Robichaud, left and Lieutenant Governor Antoinette Perry.
PHOTO 2: Stéphanie St-Onge presents her acceptance speech after being named champion.
PHOTO 3: The judges of the finals: Marc Côté, Linda Lowther and Olivier Bertrand.
PHOTO 4: Finalists Nathalie Coupet and Philippe Guidon present their Belgo Transport project.
PHOTO 5: Finalists Bobby Gordon and Josée Gallant-Godon present their Elm Grove Centre project.
PHOTO 6: All the finalists of the Francophone Ignition Contest received certificates from RDÉE Prince Edward Island. From left are Philippe Guidon and Natalie Coupet from Belgo Transport, Bonnie Gallant, executive director of RDÉE PEI, Stéphanie St-Onge from Blossom Foot Care and Josée Gallant-Gordon and Bobby Gordon from Elm Grove Centre.
PHOTO 7: Coordinator Velma Robichaud announces the results of the competition.
For more information:
Velma Robichaud
Coordinator, 2018 Dragons' Contest
902-854-3439, Ext. 227
velma@rdeeipe.org