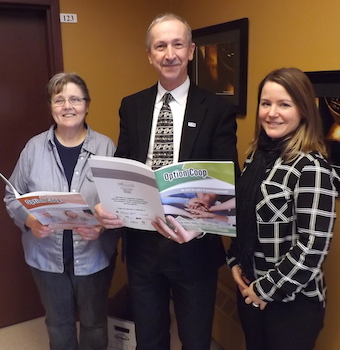 WELLINGTON – Feb. 13, 2015 – Ten people learned all about business succession through the co-op way during a lunch-and-learn in Wellington Feb. 12.
Guest speaker Melvin Doiron, executive director of the Coopérative de développement régional – Acadie from Caraquet, N.B., gave an overview of succession options that entrepreneurs have, including the co-op method.
He noted that in the Atlantic region, it's still a fairly new concept but that in Quebec and Europe, it is a practice that has seen great results. In many cases, it is a company's employees who organize themselves into a workers' co-op (sometimes with support from outside shareholders) to buy the business from their boss when he or she wants to retire or sell.
Seen with Doiron are Angèle Arsenault, left, president of the Conseil de développement coopératif, and Ève-Alexandra St-Laurent, officer with the Wellington Rural Action Centre (RAC).
The session was presented jointly by the RAC and the Acadian and Francophone Chamber of Commerce of PEI.