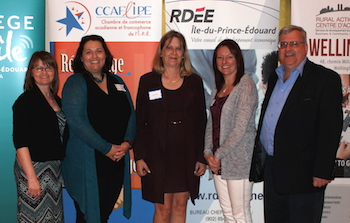 SUMMERSIDE – May 26, 2017 – About 40 business people took advantage of the Greater Summerside Chamber of Commerce business mixer May 25 to establish contacts and to learn more about various projects, initiatives, products and businesses.
They also got the opportunity to same a variety of delicious hors d'oeuvres provided by event hosts, the Collège de l'Île, the Acadian and Francophone Chamber of Commerce of PEI (CCAFLIPE), RDÉE Prince Edward Island, Wellington Rural Action Centre (RAC) and the Centre Belle-Alliance. And as always, a number of door prizes were given out.
Ten people also participated in a speed networking session before the reception.
Seen in the photo are, from left, Velma Robichaud, client information officer with the Wellington RAC; Dominique Chouinard, communications director with the Collège de l'Île; Jane Sharp, executive director of the Summerside Chamber; Bonnie Gallant, executive director of RDÉE PEI; and Raymond J. Arsenault, coordinator of the Acadian Chamber.