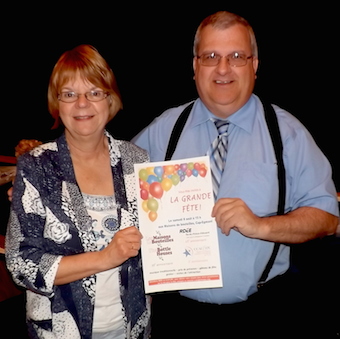 CAPE EGMONT – June 26, 2015 – To celebrate its 35th anniversary this summer, The Bottle Houses tourist attraction is joining forces with RDÉE Prince Edward Island, which is marking its 15th anniversary, and the Acadian and Francophone Chamber of Commerce of PEI (CCAFLIPE), which is highlighting its fifth anniversary of reactivation.
"The Big Party", celebrating all three anniversaries, will take place Saturday, Aug. 8, at 3 p.m. at The Bottle Houses in Cape Egmont.
Chamber coordinator Raymond J. Arsenault and Bottle Houses owner Réjeanne Arsenault unveiled details of the celebration June 25 in Summerside. They jointly invited all Islanders and tourists to join in the fun.
The ceremonies will begin with brief speeches by all three celebrating partners. The Atlantic Fiddlers' Jamboree, which will take place that weekend, will lend two Nova Scotian fiddlers to the event to contribute a bit of musical energy to the party. There will be birthday cake, snacks and beverages for everyone.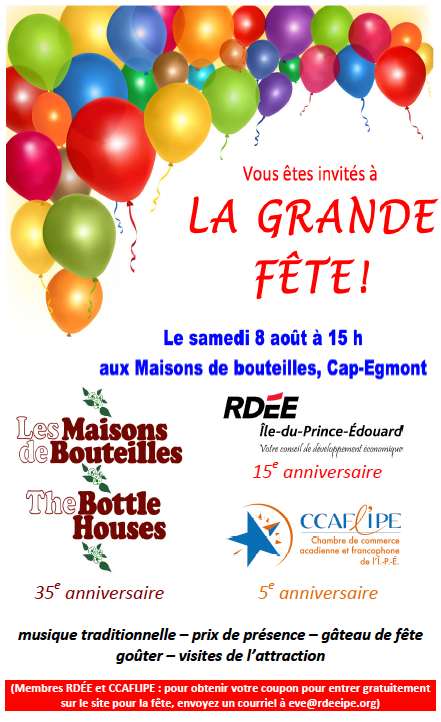 Those attending will also be able to visit the tourist attraction (which includes three buildings made of bottles as well as a lovely flower garden and pond) and shop in its gift shop.
-30-
CUTLINE: Bottle Houses owner Réjeanne Arsenault and Acadian Chamber coordinator Raymond J. Arsenault are inviting everyone to participate in "The Big Party" Aug. 8 in Cape Egmont.
For more information:
Raymond J. Arsenault
Acadian Chamber coordinator
(902) 854-3439, Ext. 231
raymond@rdeeipe.org