Funding assistance available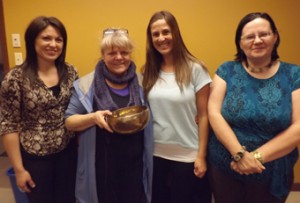 WELLINGTON – April 1, 2014 – All those who are interested in learning more about workplace wellbeing are invited to sign up for a series of three evening courses slated for April 7, 14 and 21, from 6-9 p.m., at the Wellington Rural Action Centre (RAC).
Denise Arsenault, a holistic health practitioner from the Health Within Holistic Centre in Charlottetown, will deliver the training, which will provide a variety of methods and exercises to help people feel more comfortable in their own skin in the workplace.
« Last year, those who participated in our first series of courses with Denise Arsenault, on the topic of stress prevention and reduction, truly appreciated everything that the trainer had to offer them, » said Jeannine Arsenault, client information officer with the Wellington RAC. « This year, we're focussing on another dimension of holistic health which is just as important: workplace wellbeing. »
These courses are offered by the Wellington RAC and the Acadian and Francophone Chamber of Commerce of PEI in collaborated with the provincial Acadian women's association, Actions Femmes Î.-P.-É. The registration fee for all three courses is $75 (or $25 per course). Luckily, Actions Femmes Î.-P.-É. is paying the first $50 for everyone; as well, those who have a medical plan can claim the last $25 since the Health Within Holistic Centre provides official receipts.
« Those who would like to participate but can't afford the $25 are asked to contact us anyway since we'll be able to get their registration sponsored, » added Arsenault.
To register, call Jeannine Arsenault at ((02) 854-2328, Ext. 228, or email jeannine@rdeeipe.org by Friday, April 4.
Ten people recently got an introductory taste of this series of courses when they participated in a lunch-and-learn in Wellington on March 25. On this occasion, Denise Arsenault focused mostly on nutrition so that people can better digest their meals, be less tired and have more energy.
-30-

CUTLINE: Attending the March 25 lunch-and-learn on workplace wellbeing were, from left, participant Andrea Bernard, holistic health practitioner Denise Arsenault (trainer) from the Health Within Holistic Centre, Jeannine Arsenault from the Wellington Rural Action Centre, and participant Cindy Poirier.
For more information:
Jeannine Arsenault
Client information officer
Wellington Rural Action Centre
(902) 854-2328
(902) 854-2328, Ext. 228
jeannine@rdeeipe.org