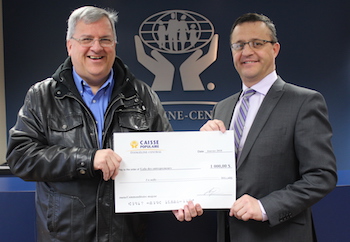 SUMMERSIDE – Feb. 5, 2018 – As it announced that Evangeline-Central Credit Union was returning for a 13th straight year as a major sponsor of its Acadian Entrepreneurs' Gala, the Acadian and Francophone Chamber of Commerce of PEI recently launched the sale of tickets for the 2018 edition of the Gala, which is being held Saturday, March 17, at 6 p.m. at the Centre Belle-Alliance in Summerside.
The credit union is again sponsoring the Social Economy Business Award, which will be presented to one of three finalists: La Belle Alliance in Summerside, the Evangeline Area Agricultural Exhibition and Acadian Festival or the Centre Goéland/Village des Sources l'Étoile Filante in Cape Egmont. Six other awards will also be presented; a total of 19 finalists are in the running.
Tickets, going for $34.50 for members and $40.25 (taxes included), are on sale until March 9 at the Wellington Rural Action Centre, Centre Belle-Alliance in Summerside and the RDÉE PEI office at the Carrefour de l'Isle-Saint-Jean in Charlottetown. The evening includes a delicious three-course meal. Right before the Gala, at the same location, everyone is invited to attend the finals of the 2018 Dragon's Contest where three entrepreneurs will be vying for a $10,000 first prize.
Seen in the photo are Gala coordinator Raymond J. Arsenault, left, accepting a major sponsorship cheque from Alfred Arsenault, general manager of Evangeline-Central Credit Union (who will also be one of the « Dragons »).