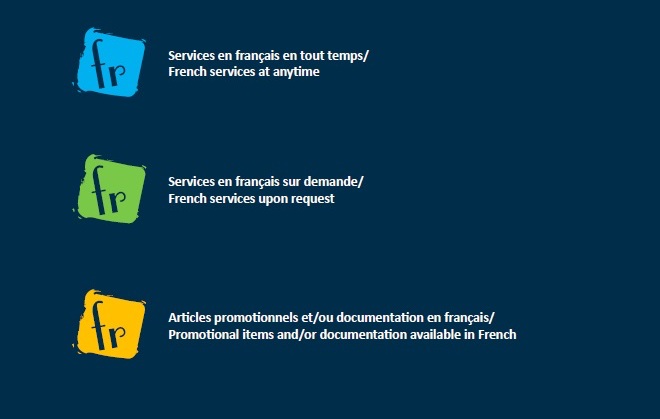 OTTAWA – February 12, 2018 – RDÉE Canada, the national coordinating body for Francophone and Acadian economic development has launched a National Classification Guide for tourist services available in French in Canada. The guide provides clearly structured information about services in French for visitors from both within Canada and from abroad. RDÉE Prince Edward Island will encourage PEI attractions to use this color-coded system.
The guide indicates three levels of service:
Blue – Service in French available at all times;
Green – Service in French available on request;
Yellow – Promotional items or other documentation in French.
Jean-Guy Bigeau, RDÉE Canada chief executive officer hails this initiative. « RDÉE Canada and its national tourist industry network strive to develop Francophone tourism in every Canadian province and territory except for Quebec. With this national trademark-protected Guide to Tourist Services in French, the Canadian tourist industry can now offer Francophone tourists and business people a useful tool for readily identifying the various levels of service available in French when staying in any province or territory. »
Roukya Abdi-Aden, manager of national consultation on economic development and employability at RDÉE Canada, adds: « Tourism in Canada is a major driver of job creation and economic development, with Francophone tourism representing a major portion of our economy and workforce. We plan to use this clear and practical guide for tourism services available in French in Canada to promote Francophone culture, a special feature of our national identity. »
Alain Brosius, tourism projects director at RDÉE Canada points out: « This guide is a basic tool that helps visitors from Canada or any other part of the world to immediately identify the types of services they can obtain in French during their stay in any part of Canada. This is also a valuable organizational tool for our tourism businesses, as well as an added value in a competitive market place. The Guide is currently being distributed throughout the production and distribution chain for Canadian tourism products in both domestic and international markets. »
– 30 –
Contact:
Alain Brosius
Project Director, Tourism
RDÉE Canada
Tel.: 613-244-7308 *213
Email: alain.brosius@rdee.ca