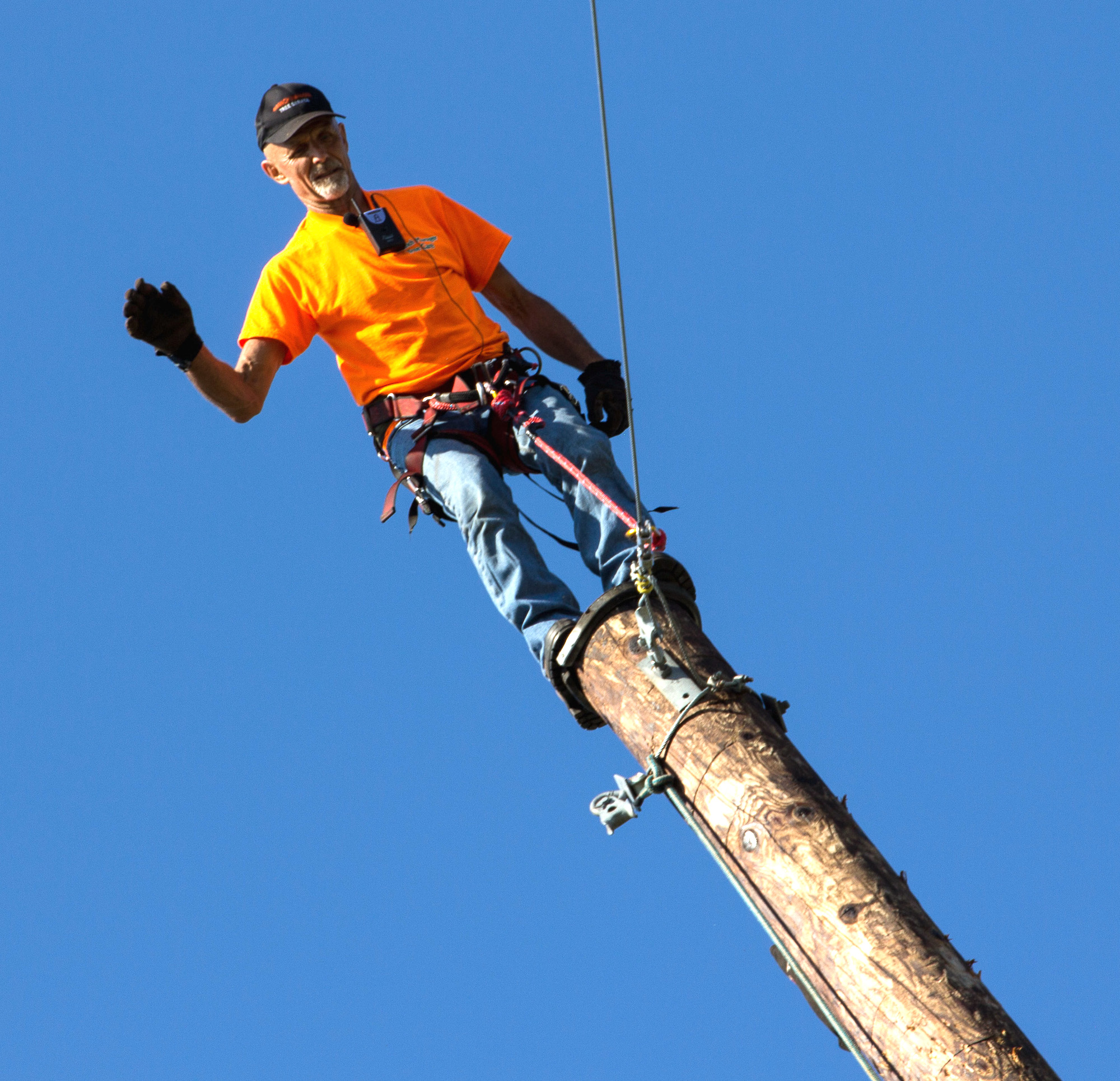 ABRAM-VILLAGE – Aug. 14, 2023 – What makes the Evangeline Area Agricultural Exhibition and Acadian Festival so unique is that people in the crowd aren't just observers of events and shows; they get to actively participate in a host of traditional and modern competitions and contests of all kinds for the chance to win a wide variety of prizes.
The 2023 edition of the Festival will feature all the favorite competitions of recent years, as well as several fun new surprise competitions that will only be revealed at the event itself, which runs from Aug. 31 to Oct. 3. It should be noted that some of the competitions are for people with certain specialized skills; others are for everyone (regardless of age). Some require pre-registration, while others are for people who wish to sign up on the spot. Regardless of their status, all these competitions are organized to keep people entertained and make their festival weekend a memorable one.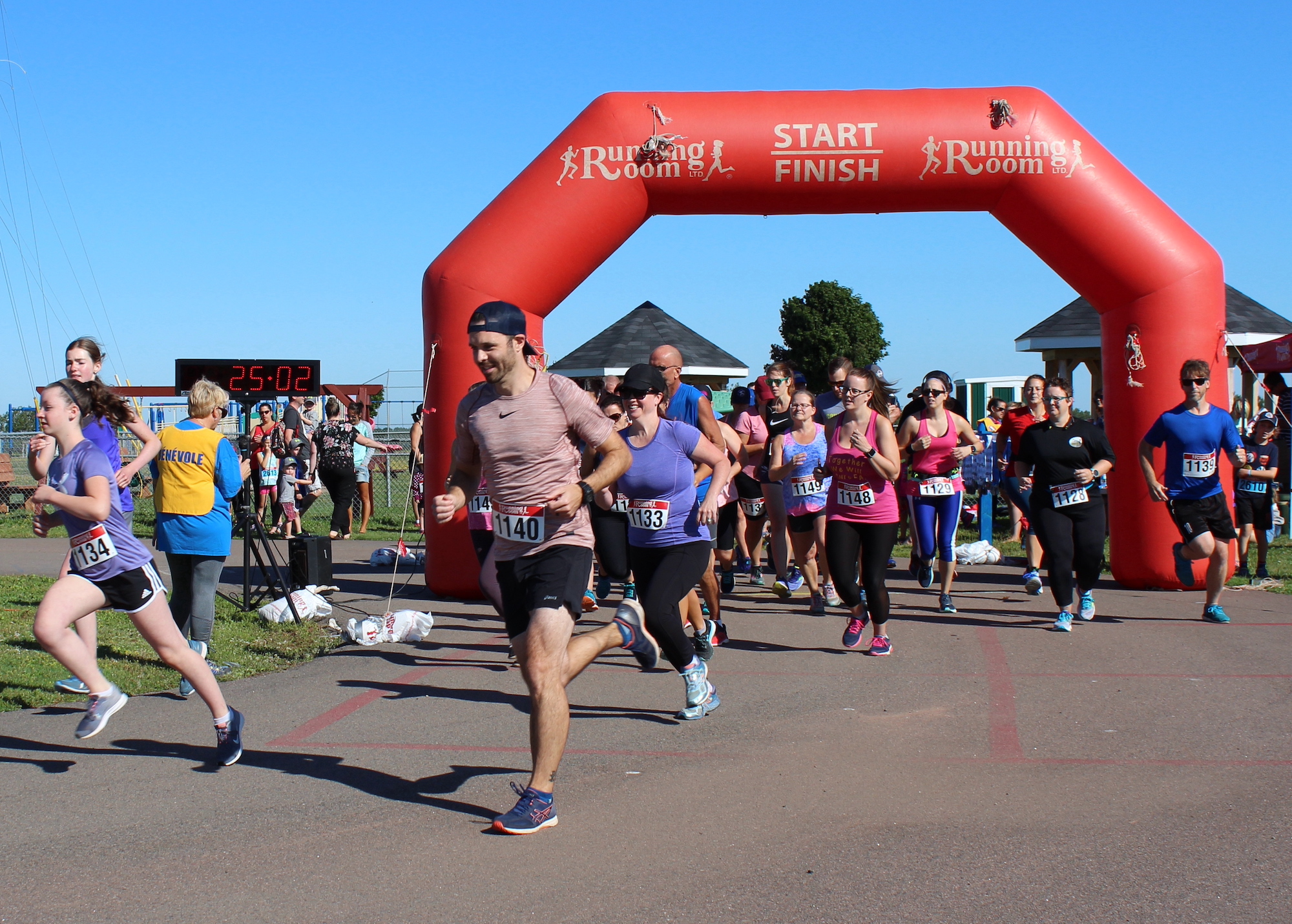 The woodsmen competition, for example, is for those who are used to working with axes and chainsaws. But everyone loves watching this competition, which will be presented in two portions – Saturday, Sept. 2, starting at 2 p.m. and Sunday, Sept. 3, starting at 2:30 p.m. Local legend Jerry Arsenault has decided to temporarily come out of retirement to present what he promises is really his very last show – his « grand finale » – of pole climbing with his son Jeremy and brother Marcel. The trio will once again present all kinds of acrobatic and hilarious stunts to entertain the crowd.
Different portions of this show will alternate with facets of the woodsmen competition on Saturday and the fishermen's competition on Sunday. These competitions consist of races demonstrating the participants' various professional skills and their speed.
FESTIVAL ROAD RACE AND MORE
Anyone who likes to run is invited to register in advance for the Acadian Festival Road Race, to be held on Saturday, Sept. 2, at 9 a.m. from Evangeline School in Abram-Village. You can choose to run 5 kilometers, 10 kilometers or a half-marathon (21 kilometers) for a registration fee of $30. There are also runs for children at 9:30 a.m. for a registration fee of $10. The distance will be 500 metres for children under five, one kilometer for children under eight, 1.5 kilometers for children under 11 and two kilometers for children under 13. Finisher and participant medals will be presented to everyone. To register, visit the Race Roster website at https://tinyurl.com/4nbfs75r. Participants also have the option of doing the race virtually.
The popular Provincial Youth Boot Throwing Championships will be held Friday at 4 pm. The Provincial Adult Championship will follow Saturday, also at 4 p.m. (with on-site registration).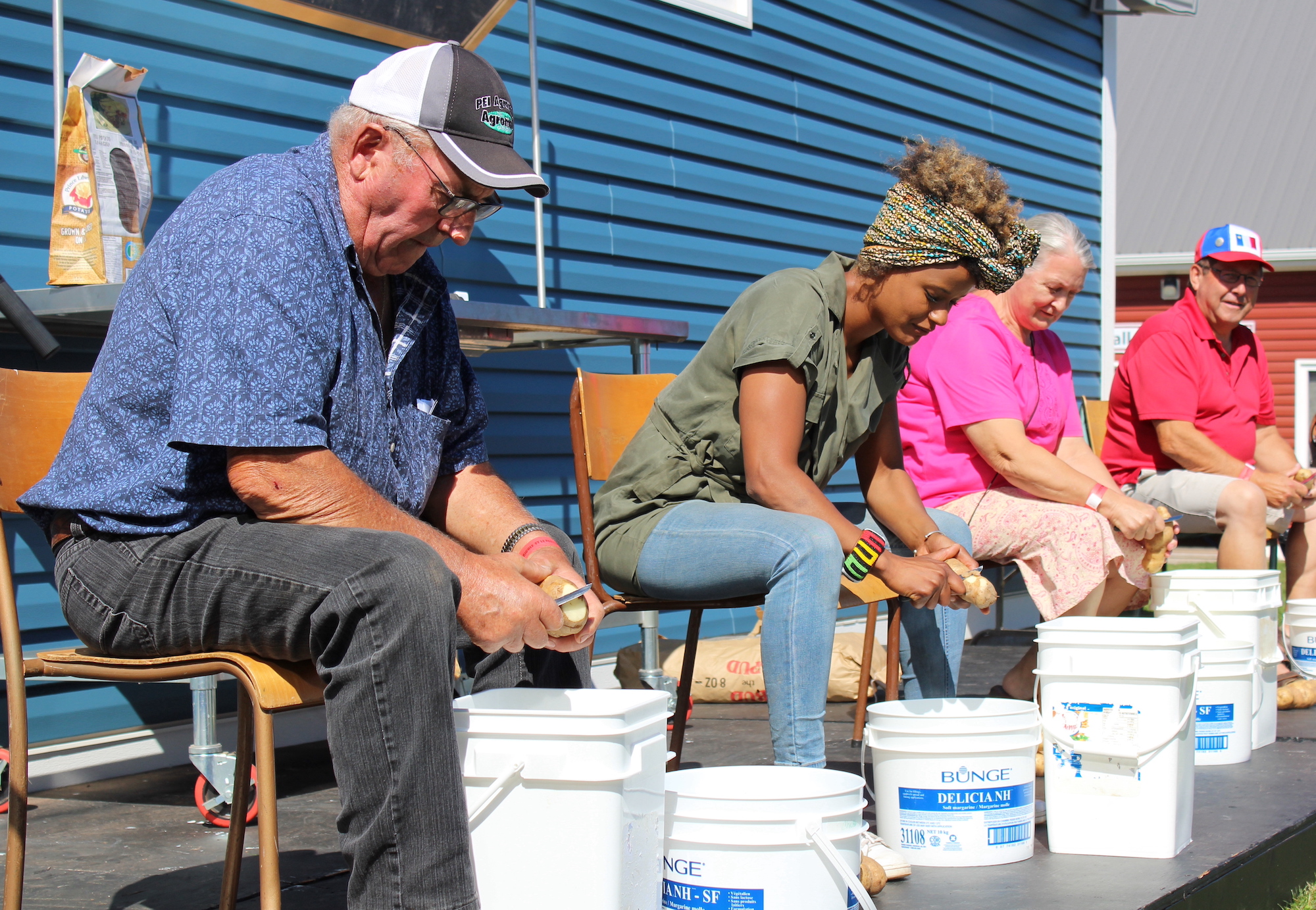 A four-wheeler pull, organized by Évangéline ATV, will take place Friday at 6:30 p.m.
On Saturday afternoon, there will be potato-peeling, knitting and lobster-eating contests. Sunday will feature a second lobster-eating contest, as well as fishing line casting, turnip bowling and floor (golf) putting contests.
Prizes will also be presented in various categories for the best entries in the parade on Sunday afternoon (1 p.m.), and for the homes best decorated in « Acadian » style for the weekend. These awards will be announced and presented on Sunday evening at 6:30 p.m. Those wishing to have an entry in the parade or to participate in the house-decorating contest are urged to sign up at the Festival office at 902-854-3517.
-30-
PHOTO 1: Jerry Arsenault will present his « grand finale » pole-climbing show, with his son Jeremy and brother Marcel, on Saturday and Sunday of the Festival.
PHOTO 2: Anyone who likes to run is invited again this year to take part in the Acadian Festival Road Race. You can choose to run 5 km, 10 km or a half-marathon (21 km) on Saturday morning.
PHOTO 3: These ladies took part in a fun knitting contest during a recent edition of the Acadian Festival. This year's contest will be held again on Saturday afternoon.
PHOTO 4: Who's going to peel their potatoes the fastest? You'll have to go to the Acadian Festiva on Saturday afternoon to show off your leguminous prowess.
PHOTO 5: This young fisherman's helper attempts to gaff buoys and put them in the lobster crate. This is one of the various races featured in the fishermen's competition taking place over the Festival weekend.
PHOTO 6: Normally, people like to take their time enjoying their lobster, but in the lobster-eating contest, you have to swallow it as fast as possible. This popular competition takes place on Saturday and Sunday afternoons.
PHOTO 7: The woodsmen competition, taking place on Saturday and Sunday afternoons, features a series of contests to test participants' skill and speed.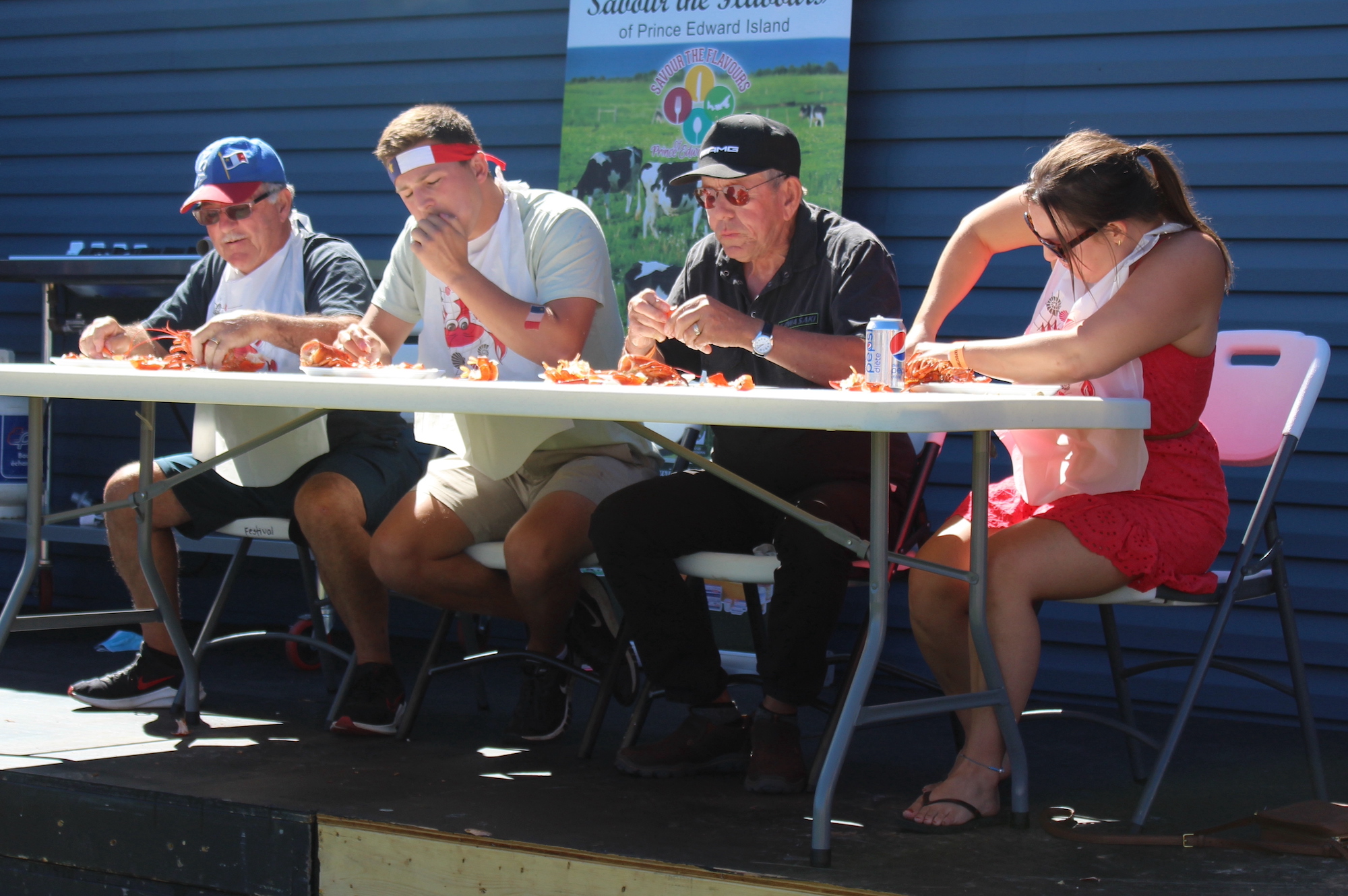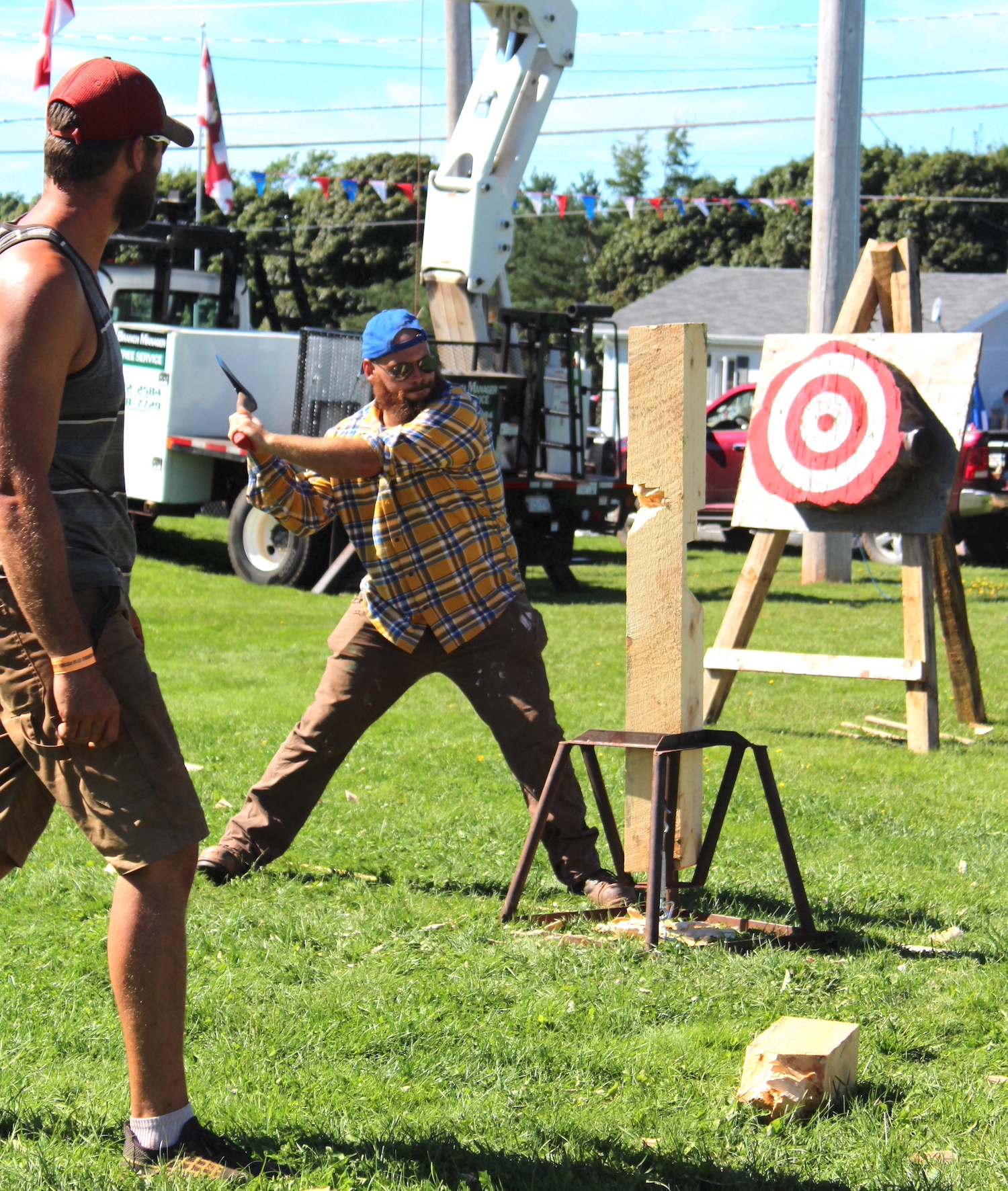 For further information, please contact:
Stephanie Arsenault
Employee
Agricultural Exhibition and Acadian Festival
(902) 854-3517
Nicole Arsenault
Board of directors volunteer
Agricultural Exhibition and Acadian Festival
(438) 345-0903