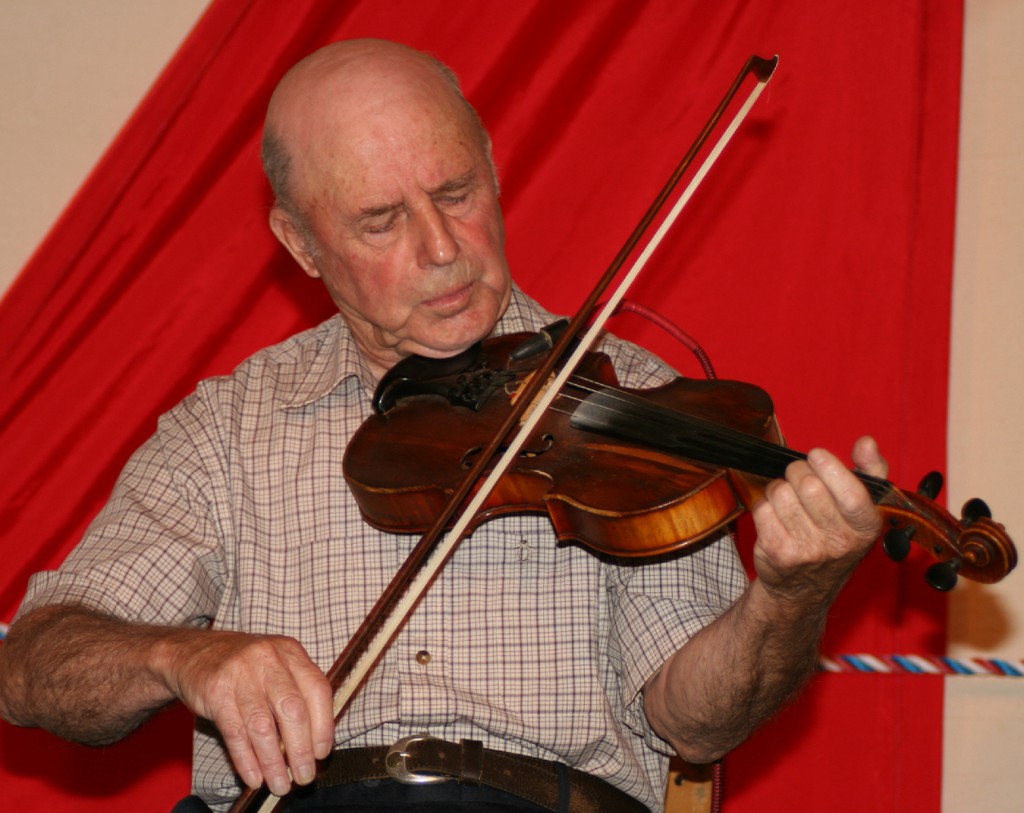 ABRAM-VILLAGE – Aug. 24, 2015 – « The late Eddy Arsenault, the legendary fiddler who influenced four or five generations of musicians with his amazing musical style, was a giant pillar of the Evangeline Area Agricultural Exhibition and Acadian Festival for many decades, » explains event president Alcide Bernard. « We could always depend on his talent and generosity to attract huge crowds from all four corners of Atlantic Canada and beyond to our Sunday afternoon fiddling show. »
Regrettably, his failing health prevented him from performing at the last few festivals. And then, Eddy passed away Sept. 18, 2014, at 93 years of age.
The festival directors felt it they absolutely had to commemorate his contribution and his talent in a special way during the 2015 edition of the festival. The event's closing show, to be presented Sunday, Sept. 6, at 7 p.m. at Evangeline Recreation Centre in Abram-Village, will therefore present a special tribute to this great musician.
Event organizers retained the services of Sylvie Toupin to conceive and produce this much-deserved tribute. No specific details, including names and numbers of artists who will perform, are being disclosed. « All that we're promising is that it will be a touching and memorable show that will pay a loving tribute to our beloved Eddy, » says the president.
In spite of his vast influence, Eddy only recorded two albums during his lifetime: Eddy Arsenault – Egmont Bay, in 1981, and Piling on the bois sec, in 1993.
He has however received several awards for his work and his influence, including « Acadian of the Year » from the Acadian Festival in 1983, and the Stompin' Tom Award from the East Coast Music Awards in 1999. In addition, in 2003, he was named the first winner of the Atlantic Fiddlers' Jamboree's Golden Fiddle Award. He was also one of the first performers to be inducted into the Evangeline Area Musical Hall of Fame last summer.
At a time when few fiddlers were available to play in public or to ensure a succession, one could always count on Eddy for livening up house parties, variety shows and festivals. In fact, over the years, he was invited to play on a number of television shows and at countless traditional music festivals in Canada and the United States. He even had the honor of playing for Queen Elizabeth II and for Prime Minister Jean Chrétien.
-30-
CUTLINE: The Evangeline Area Agricultural Exhibition and Acadian Festival will pay a special tribute to legendary fiddler Eddy Arsenault during its closing show Sunday, Sept. 6, at 7 p.m. at Evangeline Recreation Centre in Abram-Village.
For more information:
Alcide Bernard, president
Evangeline Area Agricultural Exhibition and Acadian Festival
expositionfestival@gmail.com
902-432-2425