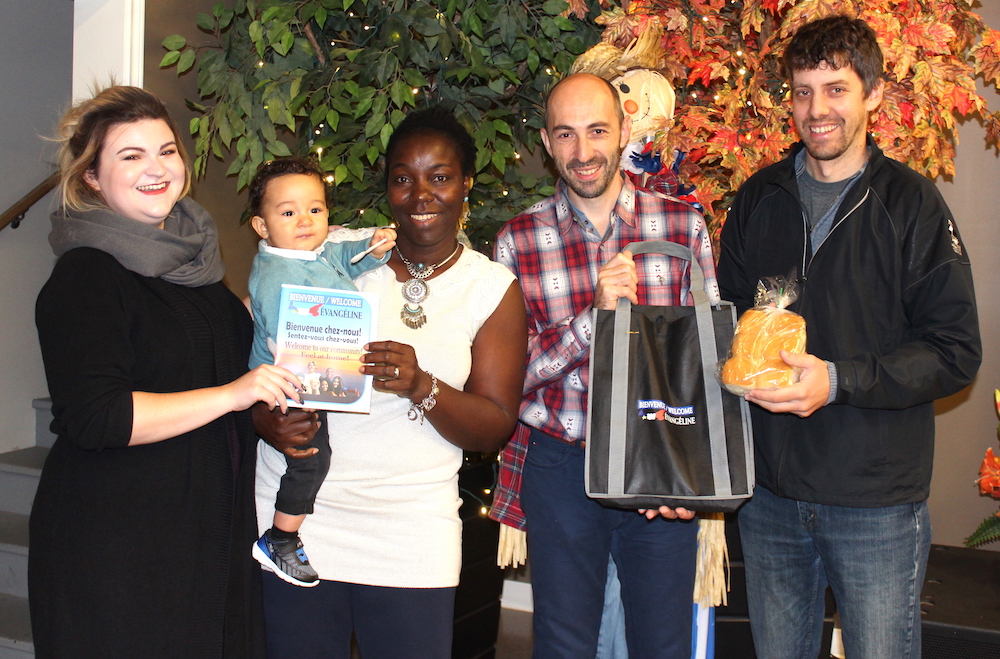 ABRAM-VILLAGE – Oct. 14, 2018 – Wanting to ensure that new residents of their area feel warmly welcomed, several partners from the local community have partnered with the Conseil scolaire-communautaire Évangéline (CSCE) to establish the bilingual "Bienvenue / Welcome Évangéline" initiative.
"We want to help these people integrate themselves more into our community so that they will feel right at home, which will undoubtedly encourage them to stay here on a permanent basis," says CSCE executive director Nick Arsenault.
As he officially launched the initiative Sunday in Abram-Village, Arsenault explained that new residents will get a visit from two project representatives. During this social visit, they will present the families or individuals a bilingual booklet (conceived specifically for this project) containing listings of all the businesses and public and community services available in the area.
They will then offer the new residents a bag from the Wellington Rural Action Centre bearing the "Bienvenue / Welcome Évangéline" logo. It will be filled with pamphlets and small welcome gifts provided by various organizations and businesses from the community.
At present, the bags contain fresh "galettes blanches" (French biscuits), children's books and games books, a note pad with pen and pencil, coupons for tickets to summer shows, magnets and pins, a bottle opener, a homemade handbag, an Acadian bar clam shell and a map. Any local business or organization wanting to add product samples, gifts, promotional items or information to promote themselves and to attract new customers are welcomed to contact the CSCE at 902-854-2166.
The initiative is similar to the Welcome Wagon concept that exists in various PEI and Canadian communities.
COLLABORATION
Arsenault noted that the CSCE will require the collaboration of the entire community to make this initiative a success. When individuals, organizations or businesses learn about a new resident or family moving into the community, they will be asked to inform the CSCE so that a personal visit can be arranged. New residents can also themselves ask for a visit.
"The clientele for this new initiative can be people from other countries, other provinces or other regions of PEI or even people originally from here who are returning to the area after living away for many years," said the executive director. "We simple want to provide them with a bit of orientation on what is happening in our community and where various activities take place, as well as to answer their questions. At the same time, we'll be able to talk to them about volunteering in our community organizations and events – all things that will help them to meet new people and get more integrated into the region."
The project will collaborate closely with the municipalities of Wellington and Abram-Village to ensure that a municipal representative takes part in the visits that are held in their villages. In non-incorporated areas, a neighbor may be asked to join in the visit.
Among the partners of this project, in addition to those already mentioned, are RDÉE Prince Edward Island, the Acadian and Francophone Chamber of Commerce of PEI and the Coopérative d'intégration francophone de l'Î.-P.-É.
-30-
CUTLINE: Partners of "Bienvenue / Welcome Évangéline" launched the new initiative Sunday in Abram-Village by presenting the guide and information and gift bag to newcomers originally from France who now live in Mont-Carmel. From left are Robyn Gallant from the Coopérative d'intégration francophone de l'Î.-P.-É., seen presenting the guide to Félicienne Otchoun and her son Zacharie while her husband Joseph Bobey accepts the bag from Nick Arsenault of the Conseil scolaire-communautaire Évangéline.

For more information:
Nick Arsenault
Executive director
Conseil scolaire-communautaire Évangéline
902-854-2166
direction@cscevangeline.ca