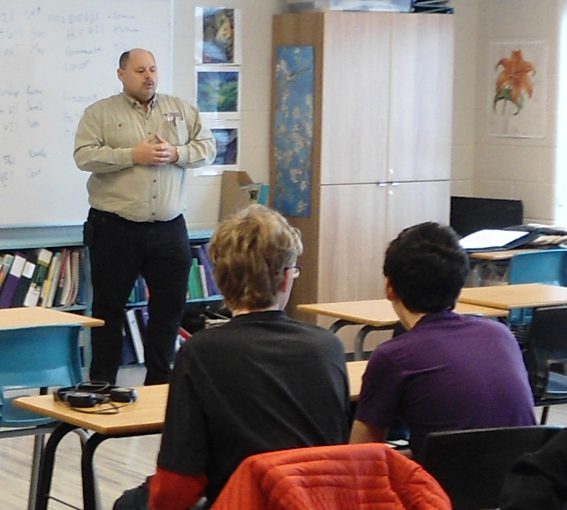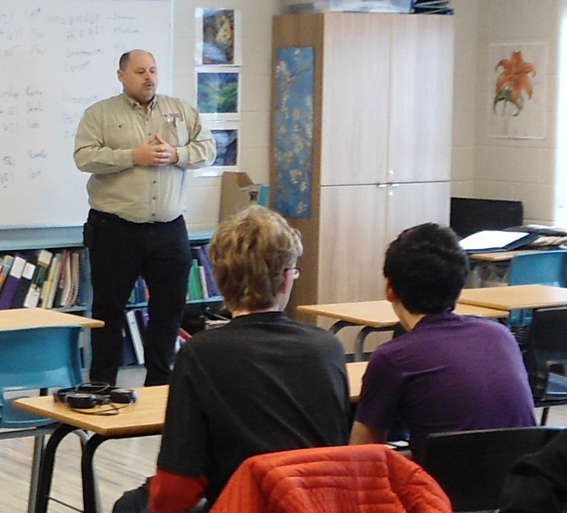 CHARLOTTETOWN, PEI – Jan. 17, 2014 – Too often, nowadays, teenagers and young adults showing up for summer jobs or full-time jobs simply haven't had an opportunity to develop good work ethics and to learn a sense of responsibility because of a wide range of social and economic reasons, says Jean Allain, co-owner of Atlantic Roofers Ltd. in Winsloe.
He believes such skills are absolutely essential to succeed in the workplace. So he graciously accepted the invitation to give a presentation on this topic Jan. 14 in Courtenay Hemphill's Grade 10 Careers class at École François-Buote in Charlottetown.
RDÉE Prince Edward Island, the provincial francophone economic development council, coordinated this presentation through its JEFLIPE Youth Strategy.
Allain, second vice-president of the Construction Association of PEI and director of the Acadian and Francophone Chamber of Commerce of PEI, emphasized to the 18 students of the class that it is extremely important that they learn how to work hard from a young age through summer jobs or part-time jobs, so that they can develop a solid work ethic.
He assured them that these notices will serve them well throughout their career. As well, these work experiences will help them determine what types of jobs or studies they would like to pursue.
"All of the students remained extremely attentive throughout the entire hour of the presentation; you could have heard a fly flying around," said Stéphane Blanchard, RDÉE PEI's youth economic development officer. "After the students filled out an evaluation, it was clear that the message had been effectively passed on. Already, at the end of the course, Mrs. Hemphill asked us if we'd be able to plan for a similar session again next year. We've started something that could very well turn into a tradition!"
-30-
CUTLINE: Jean Allain, co-owner of Atlantic Roofers Ltd. in Winsloe, recently spoke of the importance of a good work ethic during a Grade 10 Careers class at François-Buote School in Charlottetown.
For more information:
Stéphane Blanchard
Youth Economic Development Officer
RDÉE Prince Edward Island
(902) 370-7333, Ext. 402
stephane@rdeeipe.org