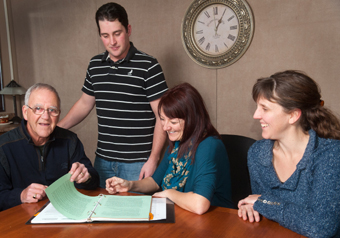 WELLINGTON, PEI – Nov. 22, 2013 – All of the Island's community boards of directors – whether they manage sports leagues, municipalities, women's institutes or community groups and organizations – are being invited to participate in a series of three workshops, each lasting three hours, to learn how to better manage their affairs and to become more efficient and effective.
The three themes to be covered during these evening workshops are: How to run effective board meetings, Recruitment and retention and Financial responsibilities for not-for-profit boards. The trainer will be Paul Gallant of Charlottetown, who previously delivered a first round of workshops, on roles and responsibilities of boards of directors.
Verner Smitheram, chair of the Friends of Covehead and Brackley Bays Inc., notes that four members of his organization's board attended the last series of workshops.
« The content was invaluable as it enabled our organization to develop a set of fully coordinated job descriptions and policies for the board and its employees, » he explains. « We now have clearer administrative practices and are better able to recruit volunteers and employees. In turn this has enhanced our credibility with the community, national and provincial granting agencies and other environmental groups. »
Smitheram feels the facilitator has mastered active learning approaches that engage the audience, encourage exchange of viewpoints and make practical applications to different situations come to life. « The materials she provided were clear, relevant and current, » he added. « To top it off, her affable style made the classes a joy to attend. »
This year's workshops will again be offered in collaboration with four of the Island's Rural Action Centres to cover all of the main regions of the Island. The Alberton centre will oversee the workshops in the Western portion of the Island ( January), the Central Bedeque RAC will be in charge of the training in the central part of the Island (January / February) and the Montague centre will manage the training in the Eastern portion of the province ( March). The Wellington RAC will deliver the same workshops in French to the Island's francophone population (February).
« We are extremely pleased to have been asked to manage the delivery of these workshops this year, » says Bonnie Gallant, executive director of RDÉE Prince Edward Island, the provincial francophone economic development council. « A portion of our mandate specifically asks us to support community organizations to become more efficient and productive so that they can better contribute to the development of their community. »
WORKSHOPS
Here is a brief description of the three workshops:
HOW TO RUN EFFECTIVE BOARD MEETINGS: Some directors feel their meetings last too long, don't have precise objectives and don't generate enough results. During the workshop, participants will learn how to prepare for meetings, identify its objectives and prepare its agenda, run effective discussions; make decisions effectively based on the organization's mission; keep effective records; determine next steps and follow-ups; ensure participants are prepared, present and participate; promote teamwork and use rules of order or ground rules.
RECRUITMENT AND RETENTION: Volunteer involvement is extremely critical in ensuring the success of community organizations, especially those that have few or little staff and very modest budgets. For many organizations, recruitment is a difficult task. Workshop participants will learn how to get the right people on the board, identify what the board wants and needs, target their recruitment efforts, develop recruitment messages, prepare a succession plan, bring in new volunteers, develop a process for recruitment and orientation of new members and motivate current members.
FINANCIAL RESPONSIBILITIES FOR NON-FOR-PROFIT BOARDS: Understanding the financial responsibilities of non-profit boards of directors is critical given the increased attention many funders are placing on financial accountability. Board members must absolutely understand financial statements and budgets; it is important that directors understand their role so that they neither micromanage the executive or staff, nor turn a blind eye on their responsibilities. Participants will learn about roles and responsibilities of treasurer, board and staff; financial management policies, governance and financial management, reporting and audits, planning and tracking for results  and key financial indicators
Even though the workshops will only be delivered in the New Year, it is important to register for them before Dec. 20 so that organizers can reserve the appropriate locations for the number of registrants in each region. It is recommended that two representatives of each organization or group register for the training. The registration fee is $60 per organization (regardless of the number of representatives) for the entire series of workshops. Training will begin at 6 p.m. on each workshop night.
To register for the workshops or to obtain more information on dates and locations in the Western region, contact Barb MacDonald at (902) 853-3616 or barb.macdonald@cbdc.ca; in the Central region, contact Christine Warren at (902) 887-3400 or at cwarren@centralpei.ca, and for the Eastern region, contact Kristine Vandenberghe at (902) 838-4030 or at kristine.vandengerghe@cbdc.ca. All those wishing to register for the French workshops, contact Jeannine Arsenault at (902) 854-2328, Ext. 228, or jeannine@deeipe.org.
-30-
CUTLINE: Verner Smitheram, seated, and Justin Walsh, respectively president and coordinator of the Friends of Covehead and Brackley Bays Inc., examine the material from last year's workshops for volunteer boards they attended last year. Thanks to this training, they were able to completely organize their internal structure. They are seen with trainer Paula Gallant, right, and Bonnie Gallant, executive director of RDÉE PEI, the organization that is coordinating the delivery of the workshops this year.
For more information:
Bonnie Gallant
Executive director
RDÉE Prince Edward Island Inc.
(902) 854-3439, ext. 232
bonnie@rdeeipe.org