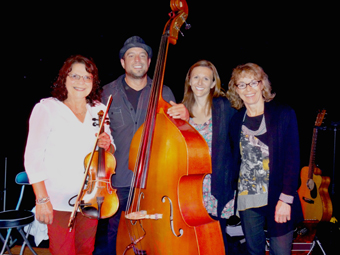 ABRAM-VILLAGE – July 15, 2016 – Throughout the summer, visitors to the Acadian Musical Village in Abram-Village will be enchanted by lively traditional and modern music by four world-calibre musicians who've literally played their music around the world, either as solo acts or with groups such as Barachois and Vishtèn.
"The Acadian Musical Village is honoured to present in concert, five days a week, from Tuesday to Saturday, these fantastic performers Louise Arsenault, Helen Bergeron, Caroline Bernard and Rémi Arsenault," says general manager Claudette Gallant. "
She notes that the foursome will alternate their shows between two of the tourist attraction's smaller stages, the one in the Resto-Bar La Trappe and the one in La Grange à Ti-Manuel, between 1-5 p.m. Between shows, they'll interact with the crowds.
Other members of the Village team will give painting workshops in the Galerie La Palette at 2:45 p.m. Tuesday to Saturday.
"Along with our English dinner-theatre 'Mom Overboard' Tuesday nights and our French dinner-theatre 'La plus belle du bal' Wednesdays and Thursdays, we've got a very busy but interesting and entertaining slate of events for our visitors," adds the manager.
BIOGRAPHICAL NOTES
The four performing artists, all born in musical families, have all been playing music since their childhood. Together, they have more than 150 years of combined stage experience.
Louise Arsenault (from the Jos Narcisse family) and Helen Bergeron (daughter of legendary fiddler Eddie Arsenault) have played together for decades. It was when they were both in the group Barachois that they got to circle the globe several times over, record three albums and win numerous awards (including several East Coast Music Awards). They were also nominated for a Juno award.
They then formed the groups Les Girls and later Gadelle, bringing multi-instrumentalist and golden-voiced singer Caroline Bernard into the fold both times. Over the years, Caroline (daughter of well-known singer Jeannita Bernard) was also a member of groups such as Chiquésa, recorded a solo album, played throughout Canada and Europe, formed in the show "Searching for Abegweit" with Lennie Gallant and played in the Charlottetown Festival's "Come All Ye" show.
Rémi Arsenault is a super-talented bass player, guitar player and drummer from the Jos Bibienne family (nephew of star Angèle Arsenault), who has toured internationally. In 2010, he was named Musician of the Year at the PEI Music Awards. He has often been heard playing, either locally or on tour, with an unending list of professionals such as Vishtèn, Catherine MacLellan, Fayo, Dominique Dupuis, Coïg, An Acoustic Sin, Leon Gallant, Andy Brown, etc.
-30-
CUTLINE: Professional musicians Louise Arsenault, Rémi Arsenault, Caroline Bernard and Helen Bergeron entertain crowds throughout the summer at the Acadian Musical Village in Abram-Village. (Photo: La Voix acadienne)
For more information:
Claudette Gallant
General manager
Acadian Musical Village
(902) 854-3300
Claudette@villagemusical.com