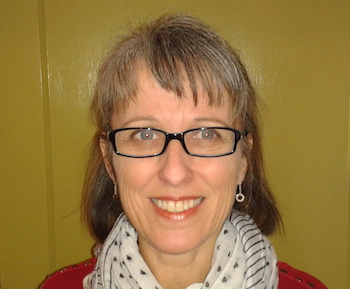 WELLINGTON – Aug. 30, 2017 – All those who would like to learn yoga exercises to relax their muscles and their brain at the office are urged to attend a special lunch-and-learn Thursday, Sept. 28, at 12 noon at the Wellington Rural Action Centre.
This starter-level yoga training session will be led by Karen Langevin, a certified yoga instructor who completed a 220-hour yoga teaching program in 2014 and two other training programs, for yoga using a chair and gentle yoga.
Since April 2014, Langevin has been specializing in teaching entry-level yoga, in French, English or bilingual sessions. Since 2015, she offers a bilingual session twice a week at various Parks Canada beaches during the summer tourist season. In addition to her yoga training and personal practice, Langevin works with the federal government in the area of public health programs. Originally from the Evangeline area, she now lives in Summerside.
"Participants will learn specific desk-worker yoga stretches that they can do at work or at home to counteract repetitive movements and stationary postures," explains the trainer. "I will guide participants through simple, effective stretches and movements that will help them release stress and calm their mind while at the office."
"Participants will benefit from a gentle and fluid practice, conceived for an office environment, which will work the entire body," notes Langevin. "Each posture increases flexibility, tones muscles, helps align the spine and relieves stress, while at the same time increasing energy levels. We'll also do breathing and relaxation exercises. For this office yoga session, participants will use a chair as well as a table or desk. No previous yoga experience is necessary!"
The session, which will be delivered in French and accompanied by a light healthy lunch, is offered jointly by the Wellington Rural Action Centre and the Acadian and Francophone Chamber of Commerce of PEI. Previous yoga sessions given by Langevin in collaboration with the same partners in 2015 has been extremely successful and appreciated.
Those interested must register no later than Sept. 125 by contacting Velma Robichaud at 902-854-3439, Ext. 228, or at velma@rdeeipe.org. The registration fee, which covers the training and the meal, is $10 for Acadian Chamber members and $15 for non-members.
-30-
CUTLINE: Karen Langevin will give a session on office yoga exercises Thursday, Sept. 28, at 12 noon at the Wellington Rural Action Centre.

For more information:
Raymond J. Arsenault
Coordinator
Acadian and Francophone Chamber of Commerce of PEI
(902) 854-3439, Ext. 231
Raymondja@rdeeipe.org