Odd-job squad aiming for year-round operation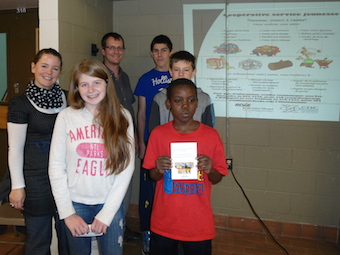 WELLINGTON – Sept. 26, 2014 – "Need someone to rake your leaves or to bring in your wood this fall? Or would you like someone to shovel your steps and walkway this winter? If so, the Youth Services Co-op could very well offer you a solution to your dilemma," says Stéphane Blanchard, youth development officer with RDÉE Prince Edward Island, who is coordinating the program.
He notes that the co-op will attempt for a first time to offer its odd-job squad services year-round, rather than just in the summer months as it has done in the past.
Blanchard said about 30 youth aged 12-17 years have been recruited in the Evangeline, Summerside, Rustico and Charlottetown areas to deliver these serves after school hours and on weekends.
"These bilingual youth, who are extremely motived, could also do all kinds of odd jobs: painting, dishwashing, house cleaning, babysitting, pet sitting, grocery shopping, doing laundry, washing cars, cleaning out garages and so on," says the coordinator.
The partners of the project – RDÉE PEI, the Conseil de développement coopératif and the Wellington Rural Action Centre – strongly encourage individuals, businesses and organizations from the community to hire these youth, either on an hourly or daily basis. To further encourage people to hire the youngsters, project organizers will hold a monthly draw for a prize worth at least $25 among the names of those who hired youth that month.
"In addition to giving work experience to the youth, this project helps the youngster develop a sense of responsibility and work ethic," adds Ève-Alexandra St-Laurent, client services officer at the Wellington Rural Action Centre, who is helping to coordinate the programme. "As well, the youth earns a bit of pocket money – minimum wage."
Those who would be interested in finding our more about the program or who would like to hire a one or more youth is asked to contact either of the program coordinators. For people in the Evangeline-Summerside area, please contact Ève-Alexandra St-Laurent at 902-8554-3439, Ext. 228, or at eve@rdeeipe.org ; people from the Charlottetown-Rustico area should contact Stéphane Blanchard at (902) 370-7333, Ext. 402, or stephane@rdeeipe.org.
-30-
CUTLINE: Seen during a Youth Services Co-op recruiting session at Evangeline School are, first row, Breannah Gaudet and Sam Masarabakiza; middle row, Ève-Alexandra St-Laurent, who helps coordinate the program, and Damien Gallant; back row, project coordinator Stéphane Blanchard and Jérémie Gallant.
For more information:
Stéphane Blanchard
Youth Development Officer
RDÉE PEI
(902) 370-7333, Ext. 402
stephane@rdeeipe.org.